A-line : history of a shape
When I was a sensitive young teen in the mid-1980s, I would rather have gone to prison than wear an A-line skirt. I'm not kidding. A-line was a no-go fashion zone. This type of skirt was for librarians, frumpy teachers, mums and grandmas. Such is a young mind turned by the fickle aesthetics of fashion.
A-line was so 1970s along with flares (more A shapes) and boob-tubes and I did not want to go there or even appreciate its historical context and obvious flattering shape. Times have changed and so have I. A-line is vintage-style flattering.
No, back then as far as I was concerned, it was frumpy and frumpy is o-u-t (hmm I still feel that way today about pussy bows. If you catch me wearing a pussy bow I'll be cold and lifeless, perhaps dead). It's fascinating how the influence of today's aesthetic can affect the general aesthetic of your own personal taste so much that it stays with you for years.
---
History of the A-line shape in fashion
The A-line style is a relatively modern silhouette, arriving in the 1950s. It is fitted at the shoulders and hips and gradually widens towards the hem, giving the impression of the shape of a capital letter A. The term A-line was first used to refer to a fashion silhouette by Christian Dior, the hero of French couture design in the 1950s. Let's go back in time and take a look….
During the post-war years Paris, France has become the focus of the fashion world as struggling clothing companies turn their attention towards designers to court a battered nation. People are tired of the brutality and austerity of war and are ready to see luxurious styles and designs using lots of fabric.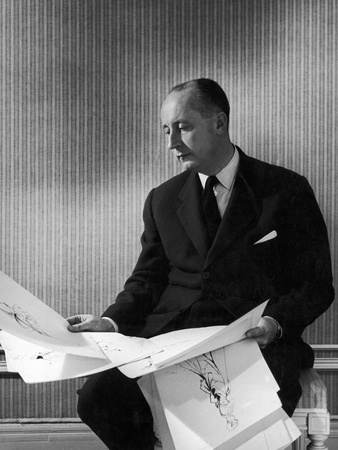 Christian Dior (1905-1957)
Dior's popularity and business model with the New Look – launched in 1947 – ensures that his designs are being established globally and not just in France. Dior labels his three collections of 1954 and 1955 after shapes reminiscent of the letters H, Y, and A. The shapes are a deliberate departure from the fullness of the previous New Look collections which dominated the late 1940s and early 1950s. Dior's New Look 'Corolle Line' shape with its nipped-in waist had been the silhouette of the fashionable for so long and it was now time for a change.
Dior's new A-line collection in 1955 features a flared jacket worn with matching dress which has a full, pleated skirt. The look is clean, unfussy and therefore modern. So, not an A-line skirt as we know it today but the beginnings of our relationship with the concept of A-line shaping. The waistline of the A-line look is high under the bust or dropped towards the hips.
Another indicator of this modern trend is the fashionable swing coat from around the late 1940s introduced by Jacques Fath. This coat style is popular as it is suitably discreet for the gestation of all those tiny baby boomers in the womb of the post-war pregnancy surge. For women it is taboo to show off the baby bump until the early 1990s.
---
The history
We'll get back to Paris, France, shortly but let's investigate the A-line shape before it was given this name and in cultures out-with Europe and the USA. Of course women have been wearing skirts and dresses for centuries in all sorts of shapes, so lets have a quick look at when in history this type of shape was prevalent.
Throughout history and Western civilisation it is generally considered that garments should cover all of a women's legs and thus her privacy, modesty, morals and reputation. This makes her excellent and well-behaved marriage material. Coverage was the main concern and shape was created by belts, hoops, petticoats and corsets.
In Elizabethan times (1558-1603) regal dress fashion insisted that fashionable women flatten breasts and have complete fullness of the skirt – which could be seen as an A-line pre-cursor shape.
In the early 18th century Rococo period, hoops were used as a wide undergarment to create the pannier style look to the skirt – extreme A-line here.
So, a skirt may have created an A-line look but purely through the use of bulking up underneath as was also fashion practice in the mid 19th century by wealthy young ladies.
The Edwardian period (1901-1910) saw an A-line shape appear that resembles the principles of the modern shape. Physical fitness became more popular amongst women and men around the early 20th Century and a need to get away from bulky underskirts and restrictive bloomers.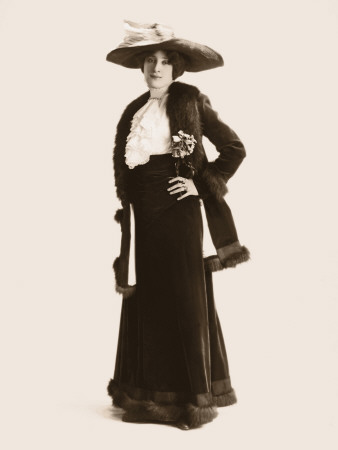 Edwardian Lady
This slowly resulted in hemlines rising and skirts and dresses becoming simpler and more shaping in the cloth. The Industrial Revolution brought dressmaking machinery, the motorcar, more tailored styles for women and the dust-coat to protect from road dust kicked up by cars.
Looking to the East and Imperial China, the Qing Dynasty in China (1644-1911) saw the Manchurian-style qipao as a popular and enforced style of dress.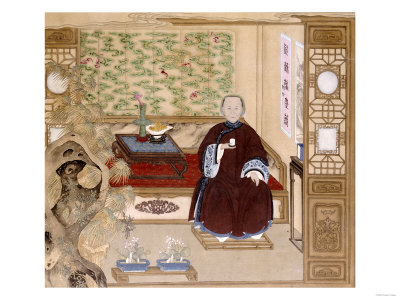 A Lady in Dark Red
The shape is simple, wide, loose and cut without shaping for a waist. It then became more tailored eventually becoming the Mandarin-style dress we know of in the 20th Century.
Perhaps it could have been an influence on this type of A-line shape in Europe as – over the centuries – travel, trade opportunities, education and migration of other cultures becomes more widespread. Territorial wars also bring other cultures and traditions into the consciousness of European nations.
The oldest recorded skirt was found on an archaeological dig in Armenia in 2010. It was made from woven straw and found to be almost 6000 years old.
---
Back to the 20th Century
Meanwhile, back in Paris in Spring 1958, following the death of Dior the previous year, his successor at Dior – Yves Saint Laurent (YSL to his friends) – arrives in town with his own A-line-influenced shape in the name of the Trapeze Line.
This collection features dresses which flare out directly from the shoulder line with the hem falling just below the knee. It is considered a modern look, designed to be worn with low-heel shoes. It would eventually morph into the baby-doll style tent dress of the 1960s.
Monsieur Pierre Cardin (a former assistant of Dior) begins his own haute couture career in Paris 1953 and becomes known as an innovator of the modern look.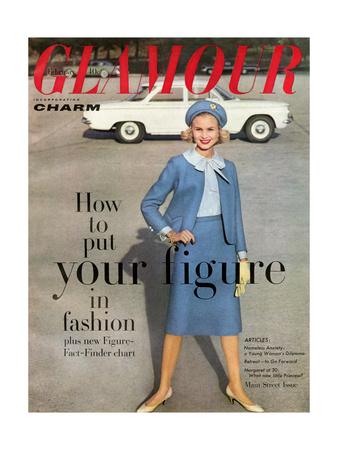 Glamour Cover
He is influenced and excited by the growing interest in space travel and new materials and design tools available. He also provides a boxy look to dresses which are moving away from the old silhouettes of the late 1940s. He is also the first couturier in Paris to produce a complete ready-to-wear collection paving the way for others and setting the pace for a more futuristic approach towards dress style and choice.
---
1960s
By the time the 1960s swings into town, fashion style and choice really begins to bloom and modernity is the buzzword for designers. Youth culture has really taken off and the increasingly affluent teenager searches for looks which define youthfulness and set them apart from the styles of their parents, especially in the USA and Europe. Coats get shorter with more relaxed lines. Sweeping shapes become prevalent such as the Princess shape. Waistlines drop and clothes are less fitted and restrictive.
By the mid-1960s, geometric and futuristic shapes are the height of fashion and the A-line shape is popular in this context. The space-age has arrived and young and old are looking to the future instead of the past: new technologies, new shapes, new and increasing freedoms for women.
Also clothes are becoming increasingly affordable due to greater affluence and cheaper methods for clothes production. London, UK becomes the fashion focus through the increasing popularity of new music styles and clothing. The city is literally swinging.

Androgenous style becomes a focus, representing the youth culture that will not be defined by the old rules of sexuality and conformity. The A-line shape is soon to influence the new radical form of mini-dress which is synonymous with the 1960s and youth culture.
The young feel more comfortable with the shorter styles which draw attention less on the sexual area of the breast and celebrate the more child-like youthful areas of the body such as legs and arms. Stiff, ultra-modern materials such as PVC and even paper could easily manage geometric and A-line shapes.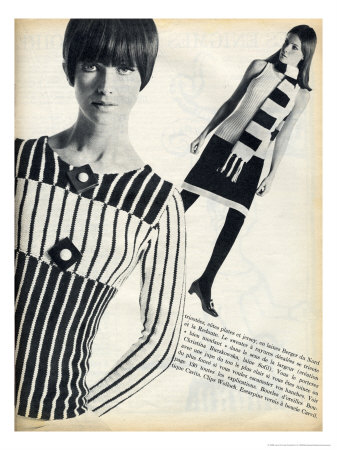 1960's Pop Striped Knitwear
---
1970s
Things get more confusing in the 1970s (eek, don't they always?) As fashion choices become more numerous, available and changeable by the season, A-line skirts, by the 1970s, come in almost any length imaginable. Micro-trends ebb and flow and the affordable choices for working women with  disposable income becomes endless and man-made materials become more refined.
Thicker material such as suede or denim is used a lot in the A-line shape and often uses panels with vertical seams to create the flare. This thicker material also often uses front poppers or buttons down the centre-front of the skirt rather than a zipper at the side seam or back.
A very popular look in this decade is to wear the mid-length A-line skirt with knee high boots (and perhaps a ribbed polo neck sweater). A-line coats are also popular throughout this decade. Anything flared is considered fashionable.
Towards the very late 1970s, pencil skirts become a more fashionable look and the A-line silhouette starts to lose its appeal for quite some time.
---
1980s
A-line disappears from fashion almost completely in the 1980s in favour of a more streamlined or more baggy shapes. Youth culture rejects this shape as old-fashioned and moves on.
---
1990s
A revival of the retro trend of the late 1990s brings back an interest in and access to previous decades. Vintage clothing becomes fashionable. Also A-line itself becomes a more general term of reference to describe any dress wider at the hips than at the bust or waist, as well as a number of flared skirt styles.
---
21st Century
A-line shapes resembling the pattern of Dior and Yves Saint Laurent see a revival in the early 2000s – where fashion changes by the season and styles of dress become lifestyle choices. The A-line is back and is not being judged.
---
Common themes of A-line style
The A-line dress and coat fits around shoulders and hips and then flares out to the hem as well as a simple flare-out from the shoulders. It is always wider at the hips than at the bust. The skirt usually fits snugly around the hips through use of a zip, seams and darts.
The shape is usually seen as quite plain with not much adornment, perhaps patch pockets or pleats and little or no waistband. The length of A-line skirt can be anything from thigh skimming right down to ankle-swishing lengths. Mini, maxi or midi – anything goes.
This shape is designed to thin the appearance of the hips whilst still creating a feminine shape of slim waisted curves. Mid length A-line skirts generally do not look great worn with flat shoes as they can often shorten a body line due to the widening at the bottom. They look great with platform boots or wedges or other chunky-heeled shoe.
---