Earmuffs: a fashion history
Did you know that earmuffs are patented? Now, while I'm quite sure that people have been cozying up with some kind of ear protection before America was even invented, the earmuff as we know it belongs to Chester Greenwood of Farmington, Maine, USA.
In 1873 the official inventor of earmuffs is a 15-year-old boy. Chester's ears would get very cold in winter and his ears did not take to wool (I can understand this having sensitive ears myself).
He got his grandma to bend some wire, cover it and stitch it up with an insulating textile. The material was a type of beaver fur and the lining that covered the ear would be something soft and smooth such as velvet. The headband he imagined for it was also made of bent wire. Other children asked their parents to do the same and so was born something practical and popular. It started off on the ears of children and somehow progressed onto the ears of fashionable ladies through various decades of the 20th Century.
Chester Greenwood was awarded a patent for his invention in 1877 and went on to make his fortune from it after he built an earmuff factory in 1883. US soldiers used Greenwood's earmuffs as protectors from the cold during World War I.
Farmington, Maine celebrates Chester Greenwood's birthday every year with a parade on the first Saturday of December. It has become known as the Earmuff Capital of the World.
This practical earmuffs design hasn't changed too much over the decades. Really only the product materials have. So here are some weird and wonderful examples of vintage earmuffs.
1920s earmuffs
Dollface earmuffs and characters have been popular on earmuffs over the decades.
1940s earmuffs
You can buy this original 1946 advert on Etsy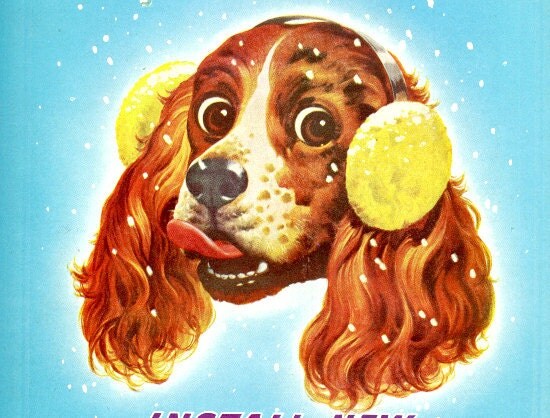 1960s earmuffs
You can buy these 1960s vintage rabbit fur earmuffs on
Etsy
Today everyone wears earmuffs