Olympic sportswear: a complete history
The first modern Olympic Games under the IOC took place in Athens, Greece in 1896. It was a revival of the ancient games taking place in Greece 6th century BC to 393AD. There had been several small scale revivals in the UK, France and Greece in the 18th and 19th centuries.
The second and third Olympic Games took place in Paris, France in 1900 and St Louis, USA in 1904.
Let's take a dive into history to understand how sportswear design has developed through the Olympic Games and why.
Olympic Games, 1896 – 1908
In the 19th Century, sport is very much a masculine activity. To see a woman taking part in sport is to question her very femininity. It's not until the end of the 1800s that women seek to increase their physical well-being through exercise and compete in sporting events.
Activities such as cycling and swimming become popular as medical attitudes towards physical exercise change. Upper-class women had been taking part in sporting activities such as tennis, golf, target sports and croquet but not to the extent that they would break a sweat. It was all in good taste.
The first modern Olympics Games are not set up to be entirely inclusive. The Games are very much a gentlemanly pursuit excluding all but privileged white males. However, all groups of society are welcome to participate if not yet made to feel properly included. Indeed, women are not invited to take part in the Olympic Games in 1896.
Women's golf, tennis and yachting are included as events in 1900. Females taking part have no real choice but to play in ankle-length dresses with long sleeves and high necks, and shoes with a heel. Very restrictive compared to the men who are wearing shorts and cool short-sleeved cotton shirts. Femininity is the priority above practicality or performance and female competitors are not taken seriously at all.
Male athletes in 1904 wear thigh-length baggy shorts and cotton vest whilst women battle on with the usual rather formal, restrictive attire.
Extract from the rules of 1908 London Games marathon:
"Every competitor must wear complete clothing from the shoulder to the knees (ie jersey sleeved to the elbows and loose drawers with slips). Any competitor will be excluded from taking part in the race unless properly attired."
Stockholm Olympic Games, 1912
A showcase demonstration of female gymnastics shows some women wearing short knee-length skirts. This is considered controversial and unladylike.
Women's swimming and diving events become part of the Olympic programme for the first time. Controversially, the female competitors wear sleeveless thigh-length woollen bathing suits.
Female US swimmers are forbidden to take part in the 1912 Games due to such immodest swimming attire. The male swimmers however are experimenting with scanty trunks called 'athletes' worn underneath sheer swimming costumes.
The track and field athletes continue to wear cotton vests, t-shirts and thigh-length shorts.
World War I
The experiences of women during World War I insure that rules of femininity are finally beginning to change. Of course, during World War I, women prove themselves to be capable of physical activity throughout the war effort and clothing restrictions imposed upon women start to ease off. This allows them freedom of movement and liberation from restrictive skirts and corsets at a time when many are entering the workplace.
Whilst female athletes work on changing the attitudes of the Olympic establishment, they also create an interest in practical sportswear for women. Sports and physical activity have become fashionable and popular amongst the young.
Coco Chanel is a pioneering young French designer determined to bring lighter, sportier and less fussy garments into European fashion and introducing stretchy jersey fabric to fashion. Young women like Chanel dare to cut their hair short and take part in the same activities as men.
Antwerp Olympic Games, 1920
Women are competing in shorter-length skirts and sleeves and also lower necklines for greater comfort and practicality. This is a freedom allowed by the fashion changes starting to take place for young women.
Women's swimsuits are also becoming more streamlined for water sports and legs are comfortably on show to the horror of the older generation.
Two years later, in 1922, French tennis player Suzanne Lenglen shocks the tennis establishment when she shows up at Wimbledon tennis tournament wearing a short, knee-length skirt. The times are changing quickly. Within a couple of years, female tennis players are daring to wear sleeveless dresses and socks instead of stockings.
The Fédération Sportive Feminine International (FSFI) is formed in France in 1922. It sponsors and promotes women's international athletics competitions in Paris in 1922 and in Göthenburg in 1926. Women's sport is starting to be taken seriously, at least by women.
Paris Olympic Games, 1924
By the mid 1920s, there is a significant social and cultural move away from the restricting notions of the past, including restrictive clothes for women and over-embellishment in design. The 'jazz age' – with its focus on the future and embracing rapid technological advancements – challenges designers to create more simplified, practical clothing which is ready-to-wear and of the moment.
Young women are more eager now to reveal their bodies. The freedom of shorter hemlines, practical swimming costumes, and bloomers for sportswomen attracts many more women to flout the rules.
At the Paris Olympics of 1924, lighter, cooler fabrics such as silk, satin and jersey cotton replace the traditional wool fabric of previous years. Sportswomen are willing pioneers of change in the perception of suitable clothing for women in general.
Sportswear itself becomes fashionable as designer Jean Patou popularises a more practical design of fashionable sportswear for women.
Ladies' sporting swimsuits are also much more practical than before with a long vest style that stops just short of the top of the thigh.
For a glimpse of the authentic styles of sportswear that featured in the 1924 Olympics, you only have to look at the 1981 film Chariots of Fire. It tells the story of the friendly rivalry between two British athletes taking part in Paris. Note the loose baggy high-waisted shorts and fitted vest shirts are still being worn by the male athletes. This film is a great resource if you are interested in looking at the sports fashions and attitudes of the times. Notice that women are still not taken seriously as sports competitors.
Amsterdam Olympic Games, 1928
It's a significant year for the Olympics and for women who are now allowed great freedoms compared to a decade ago. They can work. Many women are now allowed to vote and many more are on their way to getting the vote. Women's track and field events are introduced to the Olympics for the first time.
Under pressure from the Fédération Sportive Feminine International (FSFI), the IAAF relents and allows women to compete in several track and field events in Amsterdam.
The female athletes wear short-sleeved shirts and also shorter mid-thigh length shorts. It is through these courageous choices of female athletes that help to remove restrictive clothing for women in general. It has been a hard and long battle for the female athletes to get recognition for sports endeavours and to get to this level of comfort in sportswear.
Los Angeles Olympic Games, 1932
Hosted during the Great Depression, LA is the only city that bids for the Games. Many athletes can't afford to travel there so the Games are relatively small.
However, this is the first time that an Olympic Village is built and it encourages athletes to wear sportswear when off-duty and the uniforms to represent their country become stylish and fashionable. These Games also introduce the winners' podium, showing off the winning athletes receiving medals.
Both sportswomen and men can be seen in tracksuits at these Olympics and the smart patriotic official uniforms off the track are stylish with smart berets and white summer, short-sleeved dresses or trousers. Sportswear is fashionable this year as designers produce fashion garments and costume jewellery with Olympic primary colours and themes.
In 1932 female tennis player Alice Marble wears shorts at Wimbledon for the first time ever. In 1933 tennis champion Helen Jacobs also wears shorts for Wimbledon, bringing them into the mainstream.
Berlin Olympic Games, 1936
By the mid-1930s trousers are becoming a more common casual wear item for women and also for sportswear. Also culottes and casual wear are popular amongst many women now enjoying the craze for bicycles.
In 1936, again, comfortable sportswear is seen on track and field athletes for both men and women with jersey cotton sweat top and trousers, tracksuits and off-duty sports blazers. Athletes again wear comfortable loose shorts, and fitted vest tops whilst competing. Away from the sportsfield, sportswear remains fashionable.

The birth of celebrity endorsement of sports brands.
The Dassler Brothers began a German shoe company in 1924 that was to become the Puma brand of sports shoe. In 1936 Adolf Dassler visits the Olympics in Berlin and persuades US athlete Jesse Owens to wear a pair of their track spikes. Jesse Owens goes on to win four gold medals creating a lot of attention to the shoe brand and thousands of sales post-Olympics.
During World War II the brothers join the Nazi Party. Later, one of the brothers (Adolf) goes on to create the Adidas brand. The other brother (Rudolf ) creates the Puma brand. From then on, celebrity endorsements of their shoes has kept both companies running successfully and the Olympics has been used to promote the brands and made the two Nazi brothers very rich.
London Olympic Games, 1948
After World War II stretch jersey fabrics are more widely produced in general sportswear. Female athletes are seen wearing similar sporting clothes to the males.
In 1948 Puma supplies the entire West German football team with shoes at the Olympics.
The Italian Olympic team wears a knitted wool tracksuit made and designed by Giorgio Oberweger and Ottavio Missoni who are both on the Italian team. This is Ottavio Missoni's first adventure in clothing design.
The look of the athletes while competing is less controversial and the fashionable Olympic uniforms are celebrated. The new A-line skirt fashion shape is produced for female athletes' uniforms. Women's swimsuits are practical and streamlined.
Olympic Games, 1956 – 1964: the rise of synthetic fabric
With 1950s mass-manufacturing and consumer growth comes choices. This allows people to wear sports clothes adopting a particular fashionable style as well as the functionality they bring to the wearer.
Elastane/Spandex/Lycra: In the 1950s, the growth in use of synthetic fibres transforms clothing for both men and women. Nylon is used to make a new type of stretchy fabric component known as elastane, spandex or lycra. It is the synthetic version of latex rubber.
It is first introduced to underwear in the 1960s and gets used in swimwear in the late 1960s. It is a fabric which is both supportive and stretchy so, really, it's ideal for sports and activewear.
The 1956 Melbourne Games sees sport coats for off-duty male contenders. Women are competing in blouses and appropriately feminine shorts, more formal than practical.
The 1960s saw the rise of co-ordinated tracksuits in nylon and jersey cotton and men and women wearing similar sportswear in events.
Mexico Olympic Games, 1968
Mexico is hot. Shorts for men are ultra-short and fashionable for the times.
The French Olympic ski team wear elastane/spandex sportswear for the first time at an Olympic Games. Elastane/spandex begins the revolution in sportswear design which allows many other sports to make use of its flexible yet supportive structure.
In the 1970s cyclists, gymnasts and dancers also incorporate elastane/spandex into their sportswear and it becomes the norm.
Olympic Games, 1972 – 1976
1972 is the year of the stylish leotard for ladies' gymnastics.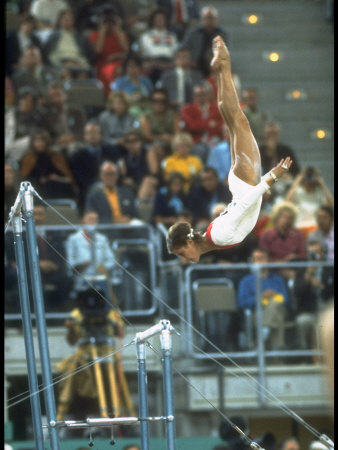 Soviet Gymnast Olga Korbu…
Without elastane/spandex, women would still have been wearing skirts and shorts. It popularised gymnastics and made women fall in love with the leotard.
It took the late 1970s, early 1980s Games before trousers truly were commonplace for female athletes on and off-duty.
Moscow Olympic Games, 1980
Shorts for men are high-cut revealing hips but slightly baggier than the 1970s tight hotpants. The high cut is less restrictive for movement and short and baggy is the style. The synthetic fabric tends to be shiny with some stretch, a fashionable look for the time in sportswear.
By the 1980s elastane/spandex is used for all top sportsmen and women and it quickly becomes the new textile incorporating sportswear and fashion alike. In many cases this is where sportswear and fashion almost completely merge and aerobics becomes a fashionable new hobby for many.
Los Angeles Olympics, 1984
The IOC agrees to officially open up the Olympics to corporate sponsorship. The sponsorship platform of the Games is changed forever. The LA Games is the first to be entirely privately funded by exclusive corporate sponsorship. This includes athletes wearing clothing emblazoned with official sponsors' logos such as Adidas, Reebok, Nike, Puma etc. The Olympic Games becomes fully commercialised.
Barcelona Olympic Games, 1992
These Games show-off trendy tracksuits for keeping athletes warm between races, with athletes of both genders wearing similar attire. Sportswear in track and field is transformed into futuristic style body suits which cling to the contours of the body and leave little to the imagination.
The media takes note and the public are amazed by the body conscious sportswear which shows off the superfit and superhuman bodies of the athletes.
In 1996 Speedo introduces a swimwear fabric made from a chlorine resistant blend of polyester and elastane/spandex.
Sydney Olympic Games, 2000
The Australians get innovative. Enter the futuristic body suit (the 'swiftsuit') as shown by Cathy Freeman, Australian sprinter. Also the 'fastskin' swimsuit is a technological improvement in fabric which allows greater ease of movement through the water. Fashion is beginning to be overtaken again by practicality and the technological advancements of the new millennium.
Although body suits cover up a lot more flesh than ever before, the fit and snugness of them leave little to the imagination.
Athens Olympic Games, 2004
These Games look back at the ancient history of the Olympics and forwards with the high-tech streamline zip-up bodysuits. The suits are emblazoned with sportswear logos and patriotic colour schemes. Branding is everything in the 21st Century.
The 2004 Games introduces elastane/spandex performance sportswear across all events. Many athletes wear suits that look very similar and streamlined swimwear.
Technical innovations are now launched at the Olympics through the sportswear of the Olympic sponsors.
Beijing Olympics, 2008
Labelled most commercial Olympics to date as Nike and Adidas battle it out to gain supremacy in their branding of sporting heroes.
London Olympic Games, 2012
Sportswear firms are in competition to impress spectators and athletes alike with high-tech sportswear made to enhance performance but also advertising their brand. Full-body sports suits morph into midriff-baring micro-sized tops and pants, showing off the all-important physique of these élite athletes.
Companies promote the latest technology in sportswear hoping that it will become fashionable.
Nike: Pro TurboSpeed super aerodynamic track and field suits.
Adidas and Puma: superlight running shoe for athletes, in comfortable breathable hi-tech material.
Speedo: special swimming suit which further reduces drag in the water.
2012 also sees fashion designers collaborating with sportswear brands to make a high-profile design statement at the Olympics. Giorgio Armani and Prada have designed the Italian team's official kit. Stella McCartney has created Team GB's official sports clothing. Ralph Lauren has designed clothing for the US team. Hermés has been involved with French team designs. NZ menswear label Rodd & Gunn has decked out its home team in a vintage-style as a nod to the 1948 London Games. Outside of the Games, this year has seen many fashion labels promote sportswear and olympic themes in their collections in 2012. The 2012 Olympics is being dubbed the Fashion Games.
From ankle-length dresses to ankle-length futuristic bodysuits. From a lack of femininity to the height of fashion. From practical sportswear to consumer branding. The Olympic Games has been both affected by and influenced by the obsessions of the society behind it. But somehow we have managed to create a more inclusive society where anyone can be a sporting hero if they have the talent and dedication; anyone can wear sportswear without having to be a superhuman sports star.
Bibliography and recommended reading:
–English Costume for Sports and Outdoor Recreation: From Sixteenth to the Nineteenth Centuries

Phillis Cunnington and Alan Mansfield  (London: Adam and Charles Black, 1969)
–Design for Sport Akiko Busch ed. (London: Thames and Hudson Ltd., 1998)
–Playing The Game: Sports and the Physical Emancipation of English Women, 1870-1914

Kathleen E. McCrone (London: Routledge, 1988)
–The Encyclopedia of Fashion From 1840 to the 1980s (London: Thames and Hudson)
–History of 20th Century Fashion
 Elizabeth Ewing (London: B.T. Gasford Ltd., 1992)
–The Complete Book of the Olympics David Wallechinsky  (New York: Penguin Books, 1984)
–Twentieth-Century Fashion : The Complete Sourcebook

John Peacock  (London: Thames and Hudson, 1993)
–History of the Olympics

Martin Tyler ed.  (London: Marshall Cavendish, 1975)
–TASTE AND FASHION, From the French Revolution Until Today

James Laver  (London: George G. Harrap and Company Ltd., 1937
– 20th Century Fashion

Valerie Mendes, Amy de la Haye (London: Thames & Hudson, 1999)
Take a look at another article on Olympic Posters