Gingham fabric, a chequered history
From Dorothy's blue gingham dress to the 1960s mod sensibility to classic vintage styling, gingham fabric is a fashion staple representing different elements of this simple design.
For women, gingham in fashion is generally reserved for the young. But why is this so? And why do wild-west gingham shirts and the 1960s mod style conjure up contrasting images for the same fabric? Why is a textile originally from the East a perfect example of Americana interior design? Let's warm up the time machine and take a look. But first…
What is gingham?
Gingham is a type of simple, woven cotton or linen cloth. Originally it had a regular bright coloured stripe but later appeared as a check or plaid pattern.
The colours are commonly blue/white or red/white. This cool, breathable textile varies from medium to light-weight and can range from a very small, checked pattern to very large checks.
There is no right or wrong side in gingham as it has the same appearance on both sides. This is due to the fibres already being coloured before they are woven together.
This makes gingham very economical for dress-making or home furnishing.
History of gingham
The history behind the origin of gingham is as chequered as the fabric itself. Many countries claim gingham fabric to be a staple of their own textile history and culture. Its widespread use throughout the world is due to it being inexpensive to produce, easy to wash, durable and simple in design.
The origin of the word is interesting since the fabric was manufactured in Dutch-colonised Malaysia and Indonesia yet also in India. It was exported to Europe in the 17th Century and later to the USA before local manufacture was set up in the 18th Century. The word appears to derive from the Malaysian word genggang meaning 'striped' and adopted by the Dutch.
In India, the gamucha is a gingham towel used to dry the body.
In Indonesia it symbolises the battle between good and evil. The contrasting colours represent this relationship.
In Japan the pattern also has spiritual symbolism. The fabric was used to wrap around statues when a child had died. Japan still produces 100% cotton gingham today – more than can be said for most other countries.
The African Masaï tribe has used a check fabric pattern for thousands of years. Gingham check is part of the national costume. In Cambodia, a gingham type cloth called a krama has many uses from the decorative to the practical.
 In Germany the gingham fabric is claimed to have originated in Bayern, while Italians claim that gingham is from Northern Italy.
The French call it 'Vichy' since they feel it originated in the Vichy region.
The USA claims that gingham could not be more American having produced the fabric for a couple of centuries. Gingham was imported to colonial USA long before it was locally produced.
In Europe gingham is associated with the authentic: country-style, rustic symbolism. This is no different in America where the fabric became synonymous with cowboys, the wild west and the frontier. This country-style, wholesome symbolism has made gingham a popular choice for tablecloths, curtains, aprons and practical workwear.
Gingham has been used for school uniforms throughout the world: everywhere from Australia; the Philippines; South Africa; France; England and the USA. It is also synonymous with children's clothing, baby bedding and now bistros, tablecloths and curtains. Colonialism is somewhat to blame for the popularity and much of the image that the fabric has in Western civilisation.
---
17th Century: gingham exported to Europe
The word gingham is first used in English in 1615. The striped cotton-weave fabric is widely exported to Europe and colonial USA from India and Indonesia. These countries excel in the use of dyes for textiles with access to plentiful supply of plants which produce rich colour-fast dyes: madder (a vibrant bright red pigment); turmeric (bright yellow) and indigo (deep blue). Therefore, it is easy to produce textiles that weave bright colours through them (such as gingham).

In 1600, Queen Elizabeth I allows East India Company a monopoly on trade between England and the Far East. The Netherlands, France and Denmark also establish similar East India companies. During the 17th century the East India Company regularly ships small amounts of brightly coloured textiles to England.
---
18th Century: industrial manufacture of gingham
In the mid-18th Century, North England textile mills produce a simple two-coloured checked gingham cotton fabric using imported cotton and dyes. Local cotton mills are also established in the USA which produce locally-manufactured gingham. It becomes a popular fabric at this time in both countries and across Europe. People are encouraged by these industries to support local economies.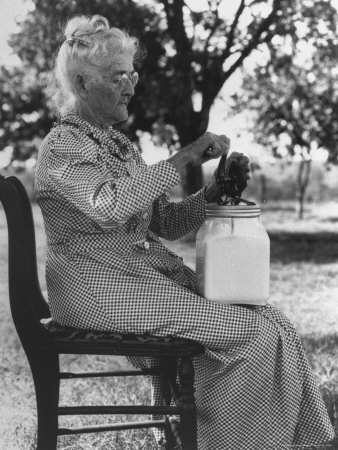 Old Woman in Gingham Dres…
George W. Ackerman
---
19th Century gingham
By 1858 the UK manufactures 'Indian' textiles from local mills and newly-developed synthetic dyes. The East India Company is shut down. By 1862 India provides seventy percent of the raw cotton used in the UK for the industrial mills.
In France the gingham 'Vichy' pattern enters the ready-to-wear clothing market. Vichy is also used in the home. It becomes a dependable fabric for domestic use. This image of homestyle domesticity is taken on by bistro cafés starting to sell homemade, simple rustic food to urban passers-by in Paris and other big cities.
Gingham becomes very popular in the USA in the mid to late 19th Century. It is used for clothes and home furnishings. The USA is producing its own cotton and mills locally manufacture gingham fabric and dyes. Gingham fabric remains popular, inexpensive and patriotic. It is a popular fabric for men, women and children and boosts the economy.
Toys and playsuits made of practical fabrics such as calico or gingham are used in Europe and America for children's summer outfits with a wool version of the outfit in winter. Also summer events in 1890 see simple gingham dresses and other lightweight fabrics worn by women.
---
1900s – 1920s: gingham is a minimal style
In the early 20th Century, gingham fabric proves immensely popular with young girls' dresses and school uniforms.
Gingham is also fashionable for romper and play suits for young boys. The durability, bright colours and lightness of the fabric makes it a winner for summer wear. It becomes fashionable for children to wear colour again in the UK following the restrictive Victorian era.
Affordable, unfussy fabrics are fashionable in the 1920s following World War I, allowing people to follow fashion and buy inexpensive ready-to-wear clothes. This modern use of gingham fabric finds some popularity amongst the young in the USA for summer wear (see photo, right).
Technological innovations in the home influence a fashion for decorating the kitchen in the mid-1920s.
Interior design has entered the home and people can afford to decorate but in a simpler, less fussy style compared to pre-war fashion dictates. The kitchen, previously seen as a utilitarian room, could now be stylish and comfortable with bright, simple, matching colours in hygienic, durable fabric.
---
1930s – 1940s gingham fabric is utilitarian
Holiday and seaside glamour becomes popular in both the US and Europe.  Gingham shorts, tops and swimsuits are paraded by Hollywood stars. Women can make their own from easily-available patterns.
Simple weaves such as gingham and other utility fabrics are characteristic of the 1940s. The austerity of economic depression and war encourages a simpler style of clothing.
Gingham is also symbolic of nostalgia for simpler times and is associated with patriotic nostalgia, especially in the USA.
Costume designer Adrian's (1903-1959) stylish gingham fabric dress for Katharine Hepburn in the movie The Philadelphia Story (1940) starts a trend for gingham dresses that continues throughout the 1940s.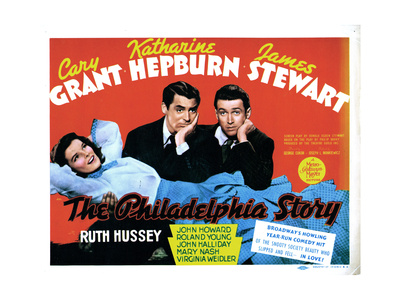 The Philadelphia Story

Adrian also styles The Wizard of Oz (1939) with Judy Garland playing Dorothy Gale in the iconic blue gingham dress. The dress allows the symbolism of the film to scream 'there's no place like home'. It's also an effective visual tool for making Judy Garland appear younger than she is.
Adrian has a love of diagonal and on-the-bias cuts. He embellishes his designs with symbols of nostalgic Americana such as patchwork and gingham fabric in various sizes.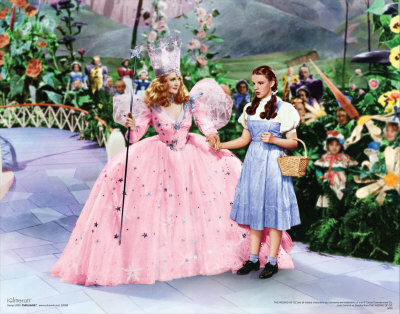 The Wizard of Oz
Dorothy Lamour in gingham outfits represents homespun utilitarian glamour. "My Heart's Wrapped Up in Gingham," is a song featured in a 1944 Lamour film And The Angels Sing. Gingham is all the rage.
US swimwear designer Claire McCardell's summer ginghams of the 1940s are distinctly Americana and very popular. In the make-do-and-mend era of 1940s wartime, gingham is a cheap, durable fabric. It is popular for summer clothing and beachwear.
The stage musical Oklahoma! (1943) is the first American musical with an ethnic sound. The words, music and costume conjure up a feeling for country-style nostalgia versus urban pretension.
Oklahoma! is coined the first American folk musical, taking inspiration from the musical Showboat. It is a huge commercial success.
Annie Get Your Gun on Broadway from 1946 is also a big hit and Americana is hugely popular.
---
1950s gingham is domestic bliss
Inspired by popular musicals, movies such as Annie Get Your Gun (1950), Calamity Jane (1953), Seven Brides for Seven Brothers (1954), Oklahoma! (1955) and Carousel (1956) are massively popular and continue the nostalgia theme of post World War II America.
The old -style, American country, homely look is a popular choice for creating an image of safe domesticity, authenticity and old-fashioned non-threatening sexuality.
Doris Day, the professional girl-next-door, becomes an icon for this image. In the post-war period women are encouraged to get back to old-fashioned values and return to domesticity whilst the men go out to work. Catch your perfect man with feminine home-spun gingham. Throw away modernity, ladies, and get back to the wholesome 19th Century.
The decade launches a popular interest in gingham for home furnishing which encapsulates the Americana style.
The Patsy Cline-style rockabilly look is also rising in popularity in America, taking its influences both from country n' western and rock n' roll styles. It is rebellion fashion for those who don't want to rebel too much. Men's gingham shirts are worn by women, often tying off the shirt tails to pull off a feminine hourglass look with jeans. Think of Marilyn Monroe wearing tight men's gingham shirts with turned up men's Levi jeans.
Meanwhile, in Europe, it's 1959 and Brigitte Bardot (below) marries Jacques Charrier in Paris. For a wedding dress, she wears pink and white gingham by couturier Jacques Estérel. It is a huge media event making the French Vichy pattern globally popular and fashionable. Brigitte Bardot almost single-handedly brought French glamour to the classic gingham pattern.
European styles are also worn frequently by Hollywood stars such as Audrey Hepburn (in gingham capri pants), Grace Kelly and First Lady Jackie Kennedy.
---
1960s gingham fabric is youthful
European fashion begins to dominate once more and gingham is included in this. It's clean and fresh youthfulness make it a perfect fabric for modern clothing. Much like the 1920s, crisp, bold colours and geometric patterns are considered modern, fashionable and youthful.
Young men look to the sartorial past for tailored styling in a smart and casual modern dandy look known as the mod style in the UK. French and Italian fashion styles interested the mods: Italian scooters, Italian and French tailoring along with new music and styles that an influx of immigrants brought to British culture.
British youths are hanging out in Italian-owned cafes with new immigrants and listening to new types of music and hearing about new style influences. The gingham fabric used in French and Italian classic tailoring becomes a hit with young British males looking for a fresh, modern style that opposes the retrospective teddy boy look.
The mod fashion in the UK makes men's gingham shirts a popular look. Fred Perry, Ben Sherman shirts in gingham become a big trend for mods.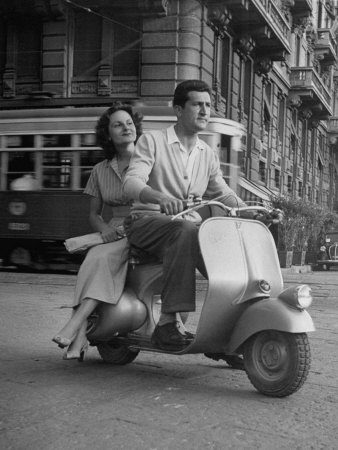 Man and Woman Riding a Ve…
Dmitri Kessel
Sean Connery, in 1963, wears a blue and white gingham check shirt with his swimming trunks in James Bond film From Russia with Love. Also in Thunderball (1965) he looks stylish in a pink and white gingham shirt with matching trunks (see clip below).
In 1964, UK newspaper The Daily Mirror asks fledging designer Barbara Hulanicki to design a garment for a special fashion feature. Hulanicki comes up with a sleeveless, A-line, pink gingham shift dress. She receives thousands of orders for the dress and goes on to sell thousands more that same year. This is the dress that launches the successful Biba label.
The 1960s is the era of youth culture and gingham is a suitable fabric with its association with children and youthfulness. This is matched with a European sense of classic, simple, fresh sartorial style.
---
1970s – 1990s gingham is ho-hum
The trend for gingham takes a back seat for a while. Maxi dresses of the 1970s and gingham inserts in jeans for added flare are some of the new fashion adjustments made to gingham.
Gingham shirts remain popular for men and women throughout the 1970s and are teamed with denim to create a natural, relaxed style. For the next few decades, gingham floats in and out of fashion.
---
21st Century: gingham fabric retro style
Gingham comes and goes in fahion in the 21st Century but will forever be linked to its two differing symbolic factors: nostalgia and youth.
Liam Gallagher's clothing line Pretty Green has revitalised the mod-style button-down men's gingham shirt once more. It's a definite nod to the mod style of the 1960s.
Vintage rockabilly fans can also bee seen sporting gingham shirts for both men and women. A gingham swing dress also creates a vintage look for fans of rockabilly style and music revival. The vintage gingham dress or blouse is a must-have item for a vintage-lover's wardrobe.
In 21st Century Japan, gingham features prominently in the Country Lolita youth fashion style subculture.
Manchester United football club has recently launched the 2012/13 official team kit with a gingham-inspired top using recycled polyester. This move is a homage to the industrial past of the Manchester mills of the 18th Century. It has had a mixed reception with critical comments about tablecloths and handkerchiefs but reflects this year's British obsession with looking back at our industrial heritage.
If you are interested in the history of fabrics check out the history of corduroy and Harris Tweed here at V is for Vintage.
References and recommended reading:
Indian Textiles in the East: From Southeast Asia to Japan
John Guy. New York: Thames & Hudson (1998)
Hollywood Dressed & Undressed: A Century of Cinema Style
Sandy Schreier, New York: Rizzoli (1998)
Costume Design in the Movies: An Illustrated Guide to the Work of 157 Great Designers (Dover Fashion and Costumes)
Elizabeth Leese, Dover Publications (1991)