Clara Bow filmography 1922 – 1925
Clara Bow appeared in a total of 57 films during her short career. What follows is a compiled list of those films. There are details of each film and notes on their availability. The list is in chronological order according to the general release date of the film.

Clara Bow films
To learn about the life and career of one of silent film's biggest stars, please take a little time to read the Clara Bow biography here on the V is for Vintage website.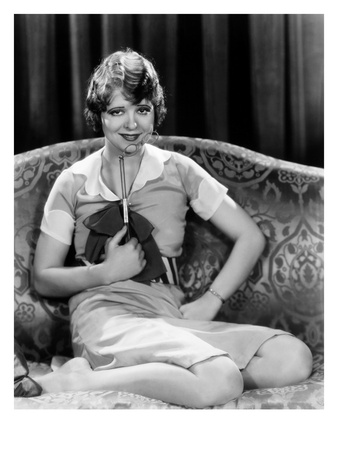 Film Still: Clara Bow
Many of Clara Bow's films have been lost. Every now and then someone, somewhere discovers some missing reels of varying deterioration. The nitrate film stock used in the 1920s contains animal fats and is getting to an age where it is decomposing. Film restoration organisations along with dedicated supporters of silent movies have gone to great lengths to try to organise and fund the preservation and restoration of these films. But there is still work to be done and time is running out.
Restoration involves reprinting onto modern film stock that has a longer shelf life. Painstaking research takes place to ensure that scenes which were cut from the original are not included. This can also involve hunting for missing reels which may have been lost or destroyed. I'll be updating this post whenever I hear about a new restoration development.
Here are Clara Bow's films 1922 – 1925:
Beyond The Rainbow (1922)
16mm print available UCLA film archive

This Robertson-Cole Pictures production was shot in New York by William Christy Cabanne with former Follies girl Billie Dove in the lead alongside Harry T Morey. The story takes place at a party where a young girl (Clara Bow) has passed a note around the room which makes everyone paranoid.
The five scenes that Clara shot did not make it into the film at the time. Clara was heart-broken as she had gone to the initial screening in New York City with some girls from school. They teased her mercilessly when they saw she wasn't in the film at all. Clara's footage was added in a later re-issue of the film.
Clara had to buy her own dresses for the film, having to borrow money from her cousin. She was paid $50 per week.
---
Down to the Sea in Ships (1923)
35mm print available UCLA film archive
DVD available


The film follows the story of a 19th century Massachusetts whaling family
Director Elmer Clifton wanted a rebellious, tomboyish young girl for the second lead part. He had a small budget. Clifton came across Clara's publicity pictures from the magazine contest.
Clara was paid $50 a week for her role. The film was shot on location in New Bedford in Massachusetts. Clara's performance was praised by the critics and the film was popular. Here is Clara in the final scene.
---
Enemies of Women (1923)
35mm print available – incomplete – Library of Congress
Shot in New York City. Directed by Alan Crosland, produced by William Randolph Hearst and starring Lionel Barrymore. Costumes by Gretl Urban. Clara's uncredited scenes required her to dance on a table half-dressed. Unfortunately Clara's mother was gravely ill and died during the filming.
---
The Daring Years (1923)
lost film
Shot in New York City and directed by Kenneth Webb. Clara Bow plays the widow of a boxer involved in a melodrama of accidental shooting and secret love affairs.

---
Grit (1924)
lost film
Directed by Frank Tuttle and shot in New York City, it's another tomboy role.
Clara plays the wonderfully named Orchid McGonigle, a New York gang member trying to go straight alongside Glenn Hunter.
The story was written by F Scott Fitzgerald.
---
Maytime (1923)
Incomplete print exists (discovered in New Zealand in 2010 and repatriated to the USA National Film Preservation Foundation for restoration).
A romantic melodrama, this is Clara's first Hollywood studio motion picture and first picture for BP Schulberg's Preferred Pictures. It is a period adaptation of a popular operetta.
---
Black Oxen (1924)
restored 35mm print available at George Eastman House
16mm print available at New York Public Library
DVD available

Clara was loaned to First National Pictures for a small part in Black Oxen. This is the film where she first played a flapper girl. The film was directed by Frank Lloyd. It's an imaginative story based on the novel by Gertrude Atherton. She said this of Lloyd: Of all the people in motion pictures I owe the most to Frank Lloyd, for the chance he gave me to establish myself as the screen flapper in Black Oxen, for the direction he gave me which showed me entirely new vistas in screen acting.
---
Poisoned Paradise: The Forbidden Story of Monte Carlo (1924)
preserved 35mm print available at UCLA (with a couple of decomposed scenes)

Directed by Louis Gasnier. Clara's first ever leading role and as the typical flapper girl. In this movie she bare-knuckle fights men and is bold, sassy and fearless. All the qualities that we love in a flapper girl, right?. It is the first signs of Clara Bow's trademark acting traits: lots of flirting, winking, angry fist waving, energetic.
The story is adapted from Robert W. Service's novel of the same name. An English artist (Kenneth Harlan) meets a Parisian waif (Clara Bow) in Monte Carlo. They discover a system to beat the gambling odds at the Monte Carlo casinos. Clara delivers an emotional performance. Cinematography by Karl Struss.

---
Daughters of Pleasure (1924)
35mm print available – incomplete – at Library of Congress
video available

More flapper mayhem from Clara as she plays another French girl turning the head of married rich man Wilfred Lucas.

---
Helen's Babies (1924)
restored 35mm print available at UCLA and MoMA
DVD available

A Baby Peggy comedy in which a bachelor is left to look after his sister's children. Clara plays his girlfriend.

---
Wine (1924)
lost film

Directed by Louis J. Gasnier. Produced and released by Universal Pictures under their 'Jewel' banner. A Prohibition comedy and Clara's first star-billing film. She plays an innocent girl corrupted by alcohol.

---
Empty Hearts (1924)
35mm print available at UCLA
video available

From a short story by Evelyn Campbell. Clara Bow plays a cabaret dancer and has a poignant death scene in the film.

---
This Woman (1924)
lost film

Filmed for Warner Brothers Pictures. Starring Irene Rich and Ricardo Cortez. Clara has a small role.

---
Black Lightning (1924)
restored 35mm print available – deteriorated – UCLA
restored 35mm print available – with Russian intertitles

Directed by James P Hogan. Recuperating World War I veteran falls for a lonely mountain girl, played by Clara Bow. This role is a complete departure from the flapper girl character.
---
The Adventurous Sex (1925)
lost film

Some of this was shot on location at Niagara Falls as our heroine contemplates jumping into the water. Clara is back in flapper mode and getting too deeply involved with a cad and a bounder.

---
Capital Punishment (1925)
preserved 35mm print exists at UCLA

Directed by James P Hogan. To prove a point, a lawyer makes a bet that he can get an innocent man convicted of murder. But things don't go quite according to plan. Clara Bow plays the fiancee of the convicted man in this melodrama.

---
My Lady's Lips (1925)
16mm remastered print available – preserved nitrate print only at UCLA

Directed by James P Hogan. Clara Bow has a small role as a newspaper magnate's daughter involved with a gambling mob. William Powell plays a reporter looking for a story on the gang.

---
Eve's Lover (1925)
lost film

Directed by Roy Del Ruth (his first non-comedy) this melodrama has Clara in trouble-making role as an ex-lover determined to break up the marriage of her former beau.

---
The Lawful Cheater (1925)
lost film

Written and directed by playwright Frank O'Connor. Shot on location in New York City. Following its US release, the film was banned by the British Board of Film Censors. Clara Bow plays a woman thrown into prison and forced to rethink her wayward lifestyle. Upon release from prison she attempts to reform her friends also. One memorable scene sees Clara dressed up as a man.
---
The Scarlet West (1925)
lost film
trailer exists only – at Library of Congress

Shot on location in Colorado and produced with the aid of Colorado historical and civic societies. It features the story of General Custer's last stand and sees Robert Fraser play the son of an Indian chief fall in love with Miriam (Clara Bow). It's a Western with a dose of melodrama.
---
Parisian Love (1925)
restored 35mm 5-tinted print available at UCLA
DVD available


Clara Bow is Marie, member of Belle Epoque era Parisian street gangs Les Apaches. She's out to double cross the man who took away her lover. Clara can be seen, once again, dressing up as a male. Directed by Louis J. Gasnier.

---
The Primrose Path (1925)
35mm print available in the UK – incomplete
preserved footage also at UCLA
DVD available
Alcoholic playboy is dating showgirl Clara Bow and getting involved in diamond smuggling.
---
The Keeper of the Bees (1925)
lost film
trailer available on video – at UCLA

Directed by James Leo Meehan. Robert Fraser and Clara Bow star together once more with Fraser as a wounded soldier and Clara as an unmarried mother-to-be trying to protect her reputation. Clara does a great death bed scene.
---
Free To Love (1925)
16mm print available
DVD available
Directed by Frank O'Connor and shot in just two weeks. Clara plays a young woman just released from reformatory and hoping to start a new life. It's not that simple though. Clara gets involved with thugs and then falls for the clergyman who helps her.
---
The Best Badman (1925)
restored 35mm print available at MoMa

Billed as a Western comedy melodrama, Tom Mix tries to save a dam in Colorado and saves the life of the rancher's daughter Peggy (Clara Bow).
---
The Ancient Mariner (1925)
lost film

This Fox film was considered very poor quality at the time. This may be the reason it has been lost or perhaps destroyed. Clara plays a woman who dumps her sweetheart for a richer man. However she is abandoned by him as his conscience is pricked by the Rime of the Ancient Mariner.
---
The Plastic Age (1925)
16mm print available
available on DVD



Shot on location at Pomona College in Claremont, California.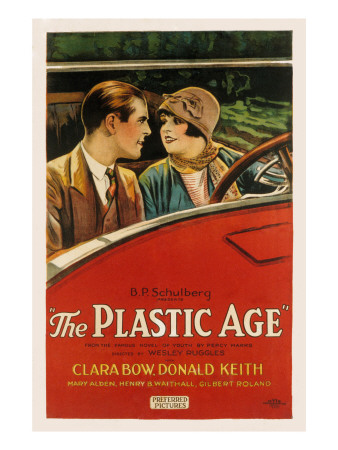 The Plastic Age, Donald K…

Clara was billed as 'the hottest jazz baby in Hollywood'. It's Clara's final film for Preferred Pictures and a big hit. Bow starred as the good/bad college girl, Cynthia Day, leading college athlete Donald Keith astray. BP Schulberg of Preferred Pictures struck a deal with Paramount, a studio eager to make a star out of Clara Bow.

---
Clara Bow filmography 1926-1933 continues here

---
Preservation of vintage film stock is very expensive. The average cost to preserve a silent film is tens of thousands of dollars. However, compared to the cost of making a film today, it is not very much at all but the studios are – sadly – reluctant to invest.
The National Film Preservation Foundation aims to restore deteriorating film through UCLA's Film and Television Archive, the Museum of Modern Art in New York and George Eastman House, in Rochester, New York State.You can make a tax-deductable donation to the Film Preservation Foundation to help with these restoration projects.
National Film Preservation Foundation
UCLA Film and Television Archive
---
Clara Bow filmography 1926-1933 continues here
Read Clara's story
here
.