Impressionism and fashion
This post explores how Impressionism pioneered the documentation of modern urban life in painting. In a pre-pre-digital photography era, when colour photography was still wearing short trousers, Impressionist artists vowed to depict modern life as had never been seen before. It was controversial, documenting the ordinary activities of average people in the city at work and at play.
In recording fashion and contemporary life, Impressionism led the way for colour photography to document the world around us. For this brief period in history we rely on art to see how people lived in a growing modern world. The Impressionists offer us a fascinating social document of a time that none of us have lived through.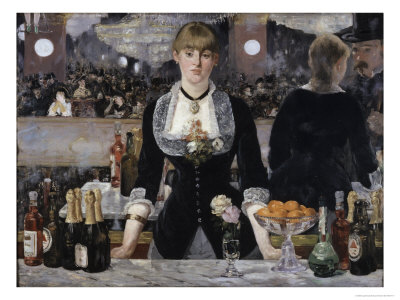 Bar at the Folies, Bergeres
Edouard Manet
Impressionism and modern life
Impressionism was about modernism, depicting the fast pace of modern life and technology as it hurtled towards the end of the 19th Century. It reflected new attitudes towards how society is viewed and represented and how science and technology further explained our human experience of the world.
The group defined what we know as modern art. It promoted the role of the artist as an independent creator, pushing boundaries of taste and tradition in order to get recognition and ultimately sell their work. They pioneered the notion that modern tastes and styles could be fashionable because of their modernity as opposed to traditional and classical notions of taste and decorum. They took interest in documenting the latest styles and contemporary tastes. Along with the Impressionist writers, they were the first documenters of consumer culture – of fashion.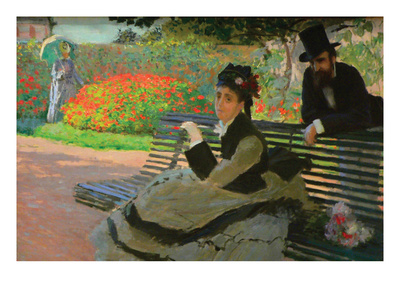 Camille Monet on a Garden Bench
Claude Monet
The Impressionists were really only defined as a group by their collective rebellion from the establishment. They have formed our own modern interpretation of what an artist is and how the avant-garde rebels within the establishment to create a new phase – the ever repeating cycle that keeps consumer culture ticking along.
Impressionist rebellion
Impressionists defiantly broke away from the traditional academic approach to art after being rejected by the Academy. They rebelled against the traditional themes of art: history, royalty, great leaders, battles, mythology and religion. Their aims were modern and radical, to break away from tradition and elitism within art.
Who were the Impressionists?
Claude Monet
Edgar Degas
Pierre-Auguste Renoir
Camille Pissarro
Berthe Morisot
Alfred Sisley
Mary Cassatt
The Impressionists took on board several techniques from previous influential and controversial artists and threw them all into the mix. In rebelling against the Classical and Romantic painters of other European traditions, they sought to revive a French tradition (Realism) and make it modern. Other artists paved the way:
Gustave Courbet (1819-1877), a rebel who tackled realistic, modern subject matter. He controversially depicted contemporary workers dressed in their humble work clothes.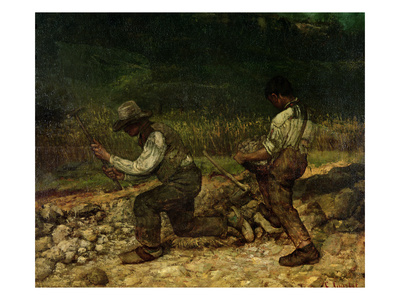 The Stonebreakers (Oil)
Gustave Courbet
Edouard Manet (1832-1883) was very influential, leading the way with more realistic, urban and contemporary scenes in a flat and loose style. He was preoccupied with light and how it is depicted in a painting. He was a constant rebel, fighting against the traditions of his peers. Several of his paintings were considered scandalous at the time. He also portrayed contemporary scenes that depicted real people wearing the latest fashion of the day or working clothes in urban settings. Without the influence and encouragement of Manet, Impressionism may never have blossomed.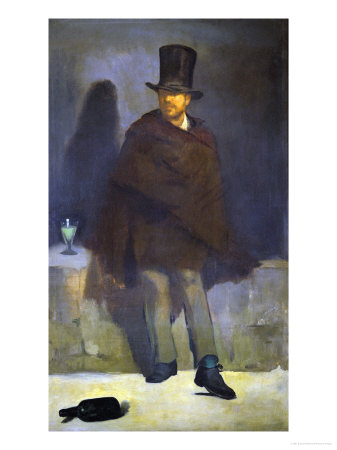 The Absinthe Drinker, 185…
Edouard Manet
19th Century France
In this century, the French art establishment and its tastes are dictated to by an annual exhibition, Salon de Paris, sponsored by the French government through its Académie des Beaux-Arts. Art mainly depicted history and religion, great leaders or classical narratives. Classical styles were seen as democratic as they celebrated Greek and Roman democracies of the past. Romantic narrative styles were also acceptable but usually referred to traditional stories and classic literature.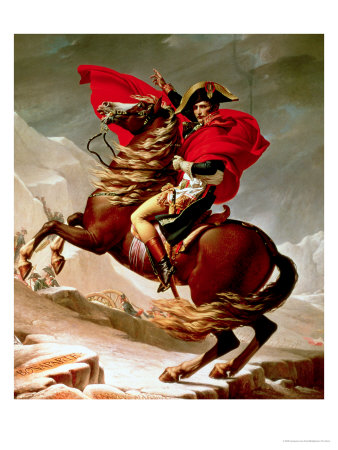 Napoleon Crossing the Alp…
Jacques-Louis David
1863: Napoleon III re-considers the rejected art and wishes to let the public decide upon these young contemporary artists by giving the Salon rejects their own exhibition, unfortunately titled Salon des Refuses. Although a great idea, the rejected art was looked down upon or even laughed at by critics and the public.
In 1863, Baudelaire writes an essay The Painter of Modern Life claiming that the modern painter was concerned now with representing the "fabric of modern manufacture".
1873: a group of rebellious artists vow to create their own private exhibition outside of the Salon. This group of modern, middle-class artists named themselves the Anonymous Society of Painters, Sculptors and Engravers. This movement was dubbed Impressionism by its critics – the name stuck.
1874: the first exhibition is held in April 1874. It exhibits the works of thirty artists. They rent a photographer's studio in a modern building in Paris to exhibit and promote their collective work in this first exhibition. The Impressionists are enterprising and no longer wish to seek the approval of the establishment. They sell their art directly to those attending the exhibition. This is a radical idea, frowned upon by traditionalists.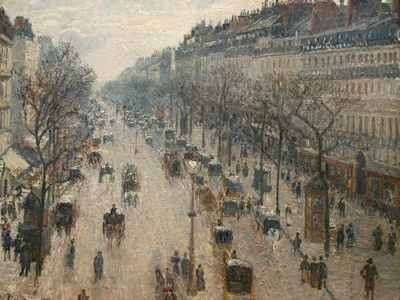 The Boulevard Montmartre on a Winter …
Camille Pissarro
1874 – 1886: altogether the group exhibit eight shows with this modern approach to painting. By 1886 (the year of the last exhibition) many of its members have further developed their styles in their personal desires to make a name for themselves. They sought to evolve and develop new movements in art such as Neo Impressionism, Post-Impressionism, Primitivism, Pointilism, Symbolism and Expressionism. It is through Impressionism and its rebellion that the modern artist is born, a legacy that survives even today as artists seek to make a name for themselves through the avant garde.
Impressionism as a documentary technique
This new, casual style of painting was considered rushed and unfinished by many traditionalists. Feathery strokes of colour sitting next to one another – you could almost feel the texture of the brush.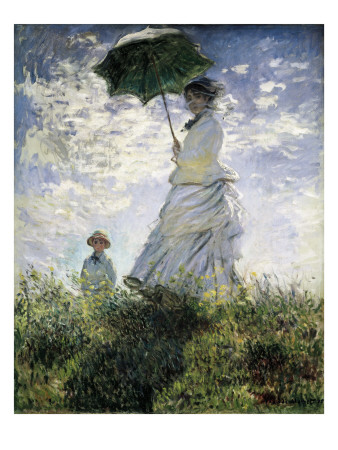 Woman with a Parasol – Ma…
Claude Monet
bright colour palette: in which shadows were depicted as colours rather than degrees of light and dark. This embraces a more scientific approach towards how the eye perceives colour, tone, light and shade. They also sought to depict modern life without sentiment or obvious narrative.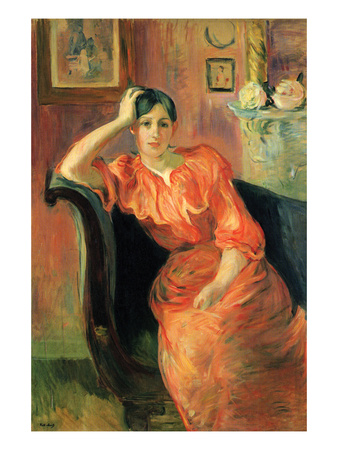 Portrait of Jeanne Pontillon
Berthe Morisot
painting outdoors: taking painting from the studio to outdoors whether it is nature or urban life. Impressionists wanted to capture the temporary movement of light as if in a snapshot photograph. Rapid execution captured a scene in the moment, before the light changed.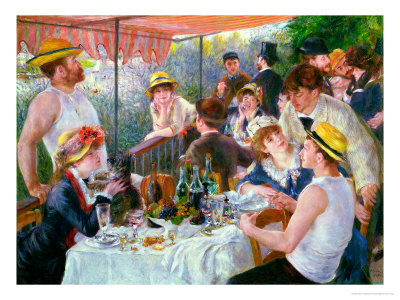 The Luncheon of the Boating Party, c….
Pierre-Auguste Renoir
subject matter: portraiture would previously make a distinction between the subject and its background although the two might be symbolically linked. The modern painter's subjects would inhabit their environment and it too would be depicted as seen. Casual or candid poses were recorded as opposed to the traditional style of formal posing.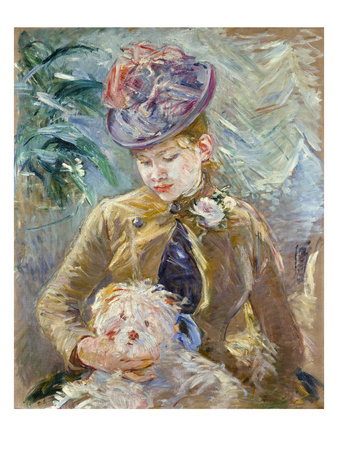 Morisot: Paule Gobillard
Berthe Morisot
All of these methods had been worked on previously by earlier artists but the Impressionists wanted to bring them together to create a fresh, new art for the modern urban consumer.
Consumer culture
The invention and growth of the railway and the telegraph: the pace of life was increasing and new inventions were embraced, changing the culture of society.
modern life: landscapes now included factories and railways, and middle classes found increased leisure time in the cities. People were depicted having picnics in the park, shopping, being entertained in theatres and bars, at leisure in the home. The poor were also depicted at work and play. The mixing of social classes in urban places was a new subject for painting. The re-building of Paris and its grand boulevards by Haussmann from 1853-1870 was celebrated as a modern success. In this new-found modern environment, beauty in the classical sense is replaced by character – a new aesthetic code.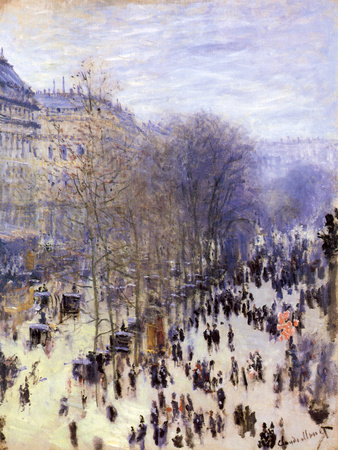 Boulevard Des Capucines, …
Claude Monet
The rise in popularity of photography (invented in 1839) had influenced the visual culture which, with science behind it, placed an importance and interest in capturing the moment. It also opened up a creative debate: is photography a modern art or a modern science of documentation? Could the two work in unison?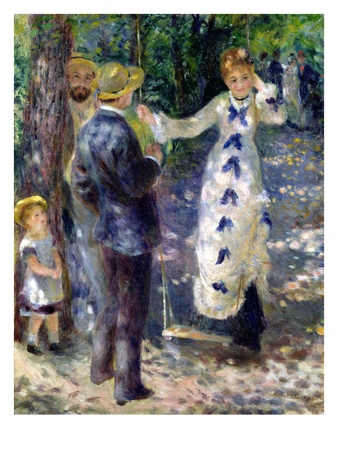 The Swing
Pierre Auguste Renoir
synthetic paints: the invention of new synthetic, portable paints with resealable lids created more vivid colours than before. Impressionists could mix colour directly onto the canvas instead of on the palette. Colours mixed on a pallette create a murky tone in contrast to the brightness of colour as perceived by the eye. This was a breakthrough for the new technique of painting used by the Impressionists and was compared to musical notes coming together to make a unified sound. This fresh approach could capture the patterns and textures of modern dress. Also portable easels had just been invented, allowing the artist to work alone and outside and to work quickly on a scene.
Japonisme: the fashion for Japanese decorative arts was introduced to France after Japan opened trade to the West again in 1853. Paintings were cropped to give a pleasing aesthetic (uncommon in Western art). This lack of traditional Western perspectives and unusual, assymetrical composition gave a two-dimensional flatly-coloured, illustrative appearance, once again going against the tradition of western academic painting. Japanese art and design became very fashionable and collectable.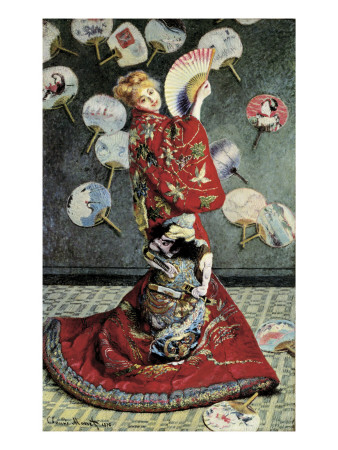 La Japonaise (Camille Mon…
Claude Monet
The Impressionists embraced and encouraged consumer culture. The style of painting allowed for work to be finished quickly and sold to those with fashionable taste. The work was also sold by various dealers who displayed the works at their shops in the city.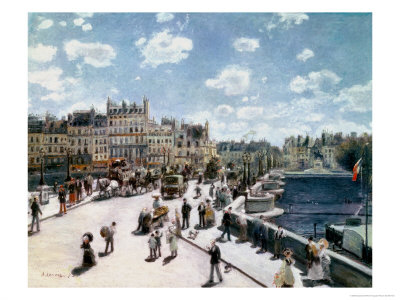 The Pont Neuf, Paris
Pierre-Auguste Renoir
Impressionism and art history
Although public opinion of the Impressionists at the time was not great, one great act ensured that they would not be forgotten in art history. Gustave Caillebotte, a friend of the Impressionists (and amateur painter) left a legacy to the Paris museums when he died. He bequeathed a respected collection of traditional art but insisted that this was inseperable from the works of his friends, the Impressionists, which he had also collected. It was considered a scandal by the Academy but all the paintings were accepted for museum display. Without this one act, Impressionism may have been forgotten in history.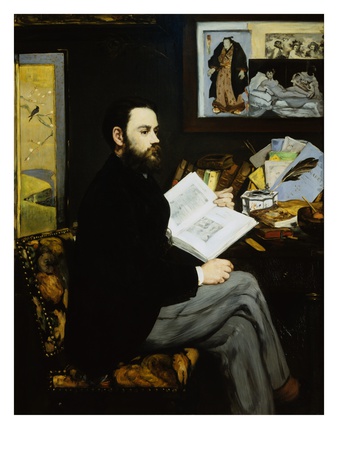 Portrait of Emile Zola
Edouard Manet
Impressionist writers
Impressionist writers included Emile Zola, Charles Baudelaire, Gustave Flaubert and Stéphane Mallarmé. They were naturalist writers seeking to escape the beauty of classical narrative and to embrace realism, character and descriptions of modern scenes. Also the Flaneur was a name given to the middle class gents who used their expansive leisure time to walk around the city and observe moments in time, recording them as a document of modern living. Emile Zola, in his 1883 novel Au Bonheur des Dames, described modern department stores as "the cathedral of modern commerce".
Impressionism and 19th Century fashion
The Impressionists, in recording scenes of everyday Paris, have left history an interesting, lively and colourful record of Parisian fashion from 1860s to the 1880s. It is a period in which rapid changes were taking place in France, following the Napoleonic Wars, and the rebuilding of Paris in its urban splendour.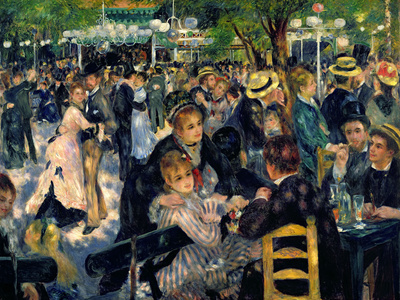 Ball at the Moulin De La Galette, 1876
Pierre-Auguste Renoir
Shopping in Paris
The growth of a prominent middle class (with excess money to spend) meant that clothing fashions began to change frequently in Paris. The growth in commercial textile manufacturing and building of new department stores along the boulevards of Paris allowed for shopping to become a popular past-time.
Also the leisure industry was blossoming for the middle classes with outings to theatres and concerts becoming popular. The Parisian streets became backdrops for the fashionable to see and be seen. It wasn't long before subtle changes to styles of garments and new fabrics became the height of fashion and sought after by many. This is a cultural legacy that is still with us today – an interest in labels and fashion houses and a keenness to show social status through wearing the latest fashions and fabrics.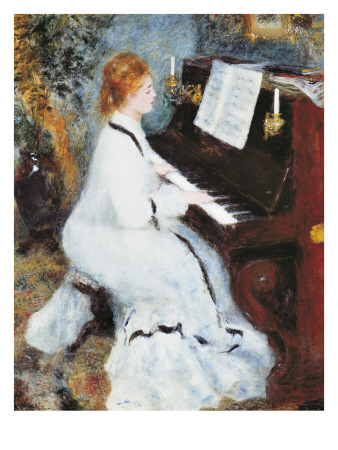 Woman at the Piano
Pierre-Auguste Renoir
The status of Paris as a cultural and fashion centre was translated to the American elite as a symbol of culture and good taste. The Impressionists embraced fashion as a symbol of modernity. Everything about modernity screams fast-paced and in-the-know, progressing through rapid and sometimes subtle changes. Social changes were rapid too, reflected in the growing rights and freedoms of women (middle-class women that is), the interest in dressing up children and the growing visibility of the working classes in Paris.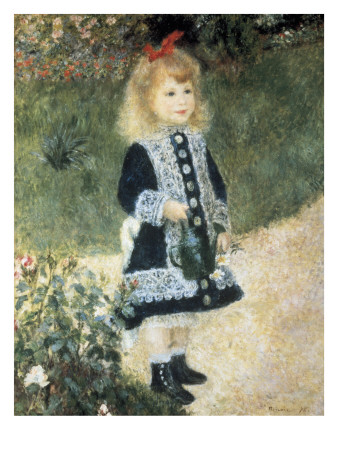 A Girl with a Watering Can
Pierre-Auguste Renoir
Impressionism and fashion
Charles Worth is the designer who launched fashion for the middle classes – the model of the fashion industry that still continues today. Fashion could be worn as a matter of taste and not just a status symbol for the rich and regal. It had filtered down from the elite upper classes to the masses of bourgeoisie which in turn separated them from the lower classes. Fashion had become democratised and accessible to whoever could afford to buy it.
Fashions would change with the seasons and keep a steady stream of revenue flowing for those involved in it. To be fashionable was to be modern and there were many subtle changes made to the passing fashions that would let everyone know how modern and affluent you really were. It was a great marketing tool that made merchants rich and industries thrive. It applied equally to men and women. Clothing was becoming less restrictive, a theme which evolved throughout the century in support of the austerity of wars and a growing taste for simpler styles.
By the time Impressionism came along fashion changed at an alarmingly fast pace and the Impressionists recorded this new-found freedom of more leisurely and informal clothing. Dressmakers could produce a modern fashionable dress from the latest fabrics by referring to the new, increasingly popular fashion magazines of the day. The birth of the sewing machine also ensured that dresses could be made quickly to order.
Black silk dresses of fine quality would show off the wearer's pale skin – a sure sign of a woman that does not need to work. Cool crisp dresses for summer or the latest fresh, modern textile designs in bright colours and bold patterns, impractical for anyone but the leisurely.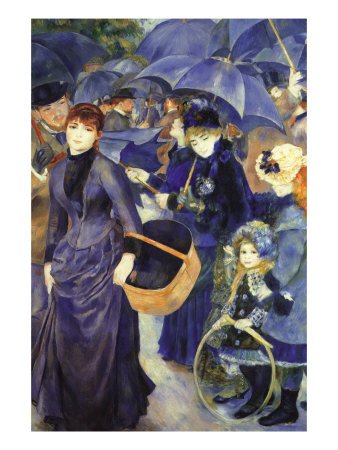 Les Para Pluies
Pierre-Auguste Renoir
Impressionism paved the way for artists, illustrators and writers to depict all areas of life. This legacy of the modern artist has filtered into fashion design today. Fashion designers work at the avant garde of taste, gaining notoriety and fame for their pioneering takes on traditional styles. They sell their garments to the fashion-conscious willing to spend their disposable income. Photography is now the medium through which the latest styles are communicated to the general public through the internet and fashion magazines. But it was Impressionism that bridged the gap and introduced the idea of documenting contemporary style.
sources and recommended reading:
The French Impressionists (1860 – 1900), Camille Mauclair, 1903. Free e-book at the link below
http://www.gutenberg.org/ebooks/14056
Impressionism: Art, Leisure, and Parisian Society

Robert Herbert, New Haven: Yale University Press, 1988.
The Judgment of Paris: The Revolutionary Decade That Gave the World Impressionism

Ross King, New York: Walker and Company, 2006.
Impressionism: Origins, Practice, Reception (World of Art)

Belinda Thomson, London: Thames and Hudson, 2000.