Jodhpurs – a history
Jodhpurs entered Western fashion culture by way of horseriding. They are trousers which are tightfitting with a seam that diverts from the inside leg and ending in a tightfitting cuff at the ankle. Before the invention of stretch fabric the trousers would be flared at the hip coming to a tight fit at the knees and down to the ankle. Essentially they were a practical type of trouser that allowed the wearer to have movement in the hips and comfort from the knee to ankle when sitting down.
As with many garments, the context in which they have been worn in the past has formed the fashion status they have been given. Like many clothes used for sports activities, the style has been incorporated into fashionable street clothes beyond their practical use. Even early Hollywood directors took to wearing jodhpurs on set. But why?
Many will be aware that jodhpurs have their origin in India as they are named after the town of Jodhpur. Let's step in the time machine and take a look at the journey from India to modern day Western fashion.
The Churidar
This type of traditional trouser has been worn in India for centuries. It is wide around the hip area and gathers in tight folds at the calf and cut on the bias for stretch. They are worn by both men and women with a loose shirt or long tunic on top. This is a type of trouser first found in Asia and suitable for a hot climate  – to allow ventilation around the hip area and to allow flexibility when sitting.

The influence of polo in the 19th Century
Polo, always played on horseback, has been a popular game for centuries, played throughout ancient Persia and Central Asia by nobility and the military. The Islamic influence in Northern India, during the Mughal Empire period, introduced the natives to a game with which they fell in love.
In 1818 Jodhpur went into subsidiary alliance under British rule. From 1834, there were polo clubs established across Northern India. The rules of polo as we know it now (with use of a stick and a ball) were invented in North India and played and loved by British Army cavalry officers whilst posted to India. They introduced the game to the UK throughout the mid-1800s.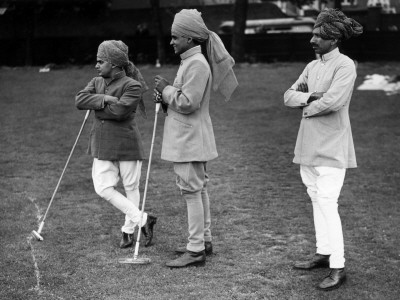 Polo Servants
The first modern rules polo match in the UK was in 1871. The 9th Lancers regiment played the 10th Hussars. The first civilian polo club was launched in 1872 in England. Polo was a success in the UK amongst military, students and aristoctratic types and soon became popular in America and Argentina as a glamorous sport. Polo tactics were also seen as useful for training the cavalry back in England, including a young Winston Churchill who loved the game and couldn't wait to be posted to India in 1896.  Polo was included in the Olympic Games from 1900 until the 1936 Berlin Olympics.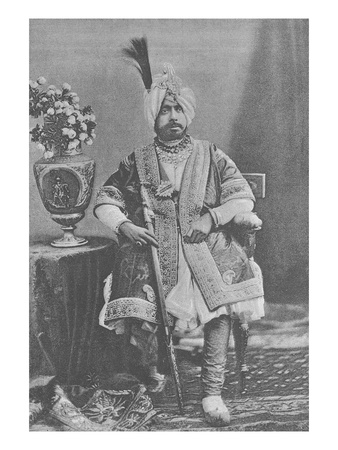 Maharaja Pratap Singhji o…
English Photographer
Lieutenant-General Maharaja Sir Pratap Singh Sahib Bahadur of Idar (1845 -1922), an officer in the British India Army, helped to make jodhpurs popular in England. He was the son of the Maharaja of Jodhpur and an enthusiastic polo player. Sir Pratap arranged tailoring of a polo riding trouser in India in 1890. This trouser had leather patches on the inside leg for saddle protection. The maharajas of Jodhpur were polo champs and the state gained a reputation as a centre of polo excellence (and remained so until 1949). In 1892, the princely state of Jodhpur produced a very successful polo team. The best polo players in North India made up this super-team.
Sir Pratap visited Queen Victoria in England for her diamond jubilee celebration in 1897. He showcased the trousers on the Jodhpur polo team he brought with him. Pratap was military assistant to The Prince of Wales (later King Edward) who was a keen equestrian and a dedicated follower of fashion. The Prince of Wales was a popular figure in India and may have played a part in making jodhpurs fashionable amongst nobility in England. Pratap's polo team certainly impressed the fashionable elite at the time.
The very practical jodhpur style was soon incorporated into the riding breeches worn by the English polo teams. These breeches stopped mid calf and were worn with long riding boots and stockings. English tailors in Savile Row then went on to design the new baggy-style breeches which soon became known as jodhpurs.
Soon enough, the Indian design of full length jodhpurs with a protective patch on the inside leg became popular. With the longer leg, wearing long boots was not necessary. The longer jodhpur protected the legs from the saddle and from friction and slipping.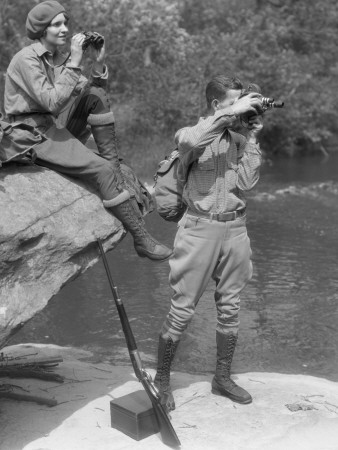 Couple, Both Wearing Jodh…
H. Armstrong Roberts
20th Century military uniform
The jodhpur trouser became popular for military uniforms in Europe relating to riding a horse (and later a motorcycle). It was used a lot during World War I: a time when a military uniform gained much respect and an air of authority.
This air of military authority surrounding the jodhpur even influenced those fragile egos of early Hollywood directors who donned the military style to gain authority and respect (perhaps also fear) whilst sitting down on set. And of course, the jodhpur was used by polo players across the world.
With the ever-increasing popularity of sporting and physical activity, the jodhpur later expanded into other practical wear such as in tennis, skiing, aviation and motor car driving. Almost any pursuit that required sitting would welcome the jodhpur. Any pursuit that involved riding horses would encourage jodhpurs for ease of riding and practicality.
1920s
By the 1920s, the popularity of exercise and sporting pursuits for women came into full force. Women had experimented with the idea of trousers (including jodhpurs) for practical reasons during the war effort of World War I and were willing to introduce trouser-wearing to every aspect of their modern lives.
By the 1920s women had thrown off the shackles of traditionally wearing dresses to ride a horse or bike. This led to the fashion of jodhpurs being taken up by the modern, active woman. Fashion designer Coco Chanel was influential in ensuring that a jodhpur style could be worn as a fashion item by modern thinking, active women.

Jodhpurs were adapted to suit the needs of riders with the leather patches increasing up the leg to create a reinforced seat and by putting seams on the outside leg only – for greater comfort when riding. Jodhpurs soon became part of the dress code for equestrian competitive sport and anyone serious about riding.
1930s and 1940s
Aviators Amy Johnson and Amelia Earhart made jodhpurs an exciting and modern fashion. I'm sure many young women admired their courage and wanted to emulate them. Jodhpurs were also worn as fashion items to add style to practical wear, especially for women taking part in any kind of physical activity. Even dancing…..
The popularity of jodhpurs for women continued to World War II when once again utility and practicality in clothing were a part of the war effort. In fact, jodhpurs were part of the uniform for the Women's Land Army, often in practical corduroy or cotton twill.
1950s – 1970s
Around the world, jodhpurs are increasingly being used for various types of civic uniforms that involve riding either horses or motorcycles (such as in the police force).
Sportswear filters into fashion wear. As with most sportswear, the comfort and practicality of the designs entered fashion along with the image that you are fit, sporty and active. Some designers pushed the equestrian elements of style into their fashions to promote a notion of class, tradition, upper-class pursuits and smart/casual sportiness. A typical example is Ralph Lauren and his Polo brand launched in 1967.
The invention of stretch fabrics such as lycra in the late 1960s and early 1970s allowed for a more streamline version of jodhpurs to appear in horseriding and in fashion. This meant that jodhpurs could fit more snugly around the leg without compromising comfort.
1980s – 21st Century
The arrival of leggings in fashion is a natural evolution of the practicality, flexibility and comfort that jodhpurs have brought to fashion, sportswear and utility wear. Throughout these decades you will have noticed some of the features of jodhpurs remain purely for decoration or to add a sporty, classic equestrian feel to fashion. The style has also influenced a style of skinny jeans that we see in the shops today.
So, the next time you see a pair of jodhpur-style leggings on the high street, imagine the evolution of this style inspired by the ancient game of polo and kept alive through practicality and fashion.
Sources and recommended reading:
The Evolution of Polo
, Horace A. Laffaye (2009)