Knitwear – a history unravelled
Knitwear has been with us for a long time. We need it so much in these winter months. Oh, it can drift in and out of fashion in so every so often. However, it continues to transform vintage styles or revive fashions long consigned to the dustbin of time.
Just look at the recent fashion for cheesy Christmas motif jumpers that would have made us all cringe just a few years ago and you'll see what I mean. Or some of the 'jazzier' styles from the 1970s.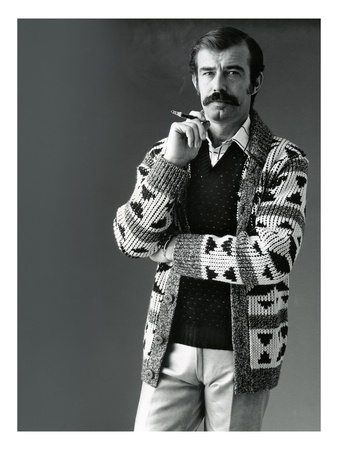 GQ – September 1973
Bill Cahill
Since the beginning of humanity people have clothed themselves with whatever materials could be found to hand. Knitting is one of the oldest forms of clothes-making. The name appears to have derived from the old English verb to knot (cnyttan) and the Dutch for the same (knutten). Hand-knitting has transformed from a necessity into a craft hobby. The industrialisation of the technique has allowed knitting to become entangled in the history of fashion itself. So, cast-off with me into the time machine until we unravel the tangled history of knitwear.
Pre-14th Century
Knitting has always been accessible to travelling cultures as it does not require a heavy loom. This simplicity is what has kept knitting alive and thriving. All that's required is a couple of needles and some yarn and the skills to pass on.
Knitting is first used to make socks and stockings. The earliest forms of knitting were found in Egypt (from 3rd – 5th Century) and the technique is found to have begun in ancient times in the Middle East. The skill travels to Europe through the woollen trade routes over time and through nomadic travellers from around the 5th Century.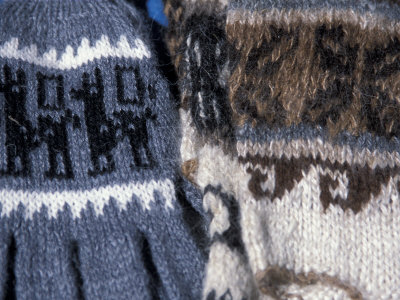 Hand Knit Gloves with Llamas at the P…
Cindy Miller Hopkins
Knitting is a skill found in Peru from the 3rd Century onwards. In Europe, Arabic knitters are employed by royalty. There is no known origin of knitting in China or India before Europe influenced those cultures in recent centuries. Perhaps this is due to already-established textile industries in silk and woven materials.
Across Europe regional variations of knitting styles are established. In Germany and Austria they form knots and cables; in the Netherlands it is a reverse stocking stitch. The Guild of Knitters has been active in Paris since as far back as 1268.
14th – 16th Century
European paintings from the 14th Century depict the Madonna knitting.
Knitted everyday items are domestically-produced in Europe from the 14th Century onwards. Knitting becomes popular in Scandinavia and Britain to make warm, weatherproof jumpers for fishermen and seafarers. The patterns and colours are particular to a family or location to help identify bodies in sea disasters. Fishermen can knit their own jumpers as they have the skills needed to mend nets. It is only more recent history that has cultivated the image of knitting as a feminine activity.
Knitting machines are used as early as the 16th Century and produced right up until the 19th Century to make a fine lace-like knit long before industrialisation. Undergarments and accessories are produced for nobility and royalty only. Before the Industrial Revolution, machine-knitting was considered classy and hand knitting domestic and amateur. It is completely the opposite of how we view those two today.
In 1589 the Rev William Lee of Nottinghamshire, England, builds one of the first hand looms for knitting hosiery. This area of England grows in reputation for production of fine knitting and lacing. William Lee then introduces the stocking frame to Rouen, France. The French go on to invent a circular knitting machine that knits tubular stocking shapes.
In 16th Century Britain, finely-knitted stockings are exported across Europe. Knitting schools are set up to help the poor to earn a living from knitting. Most knitters are men.
17th and 18th Centuries
Those living in the Highlands and Islands of Scotland earn money from knitting. This grew from a domestic necessity to have effective protection from the weather. Some pattern techniques find their modern origins in Scotland eg Fair Isle patterns, Argyle pattern. However the patterns have influences from the Middle East. In Shetland, the soft wool of the local sheep is perfect for knitting, boosting a local industry that still exists today. Shetlanders also exported fine-quality stockings to the merchants of Europe.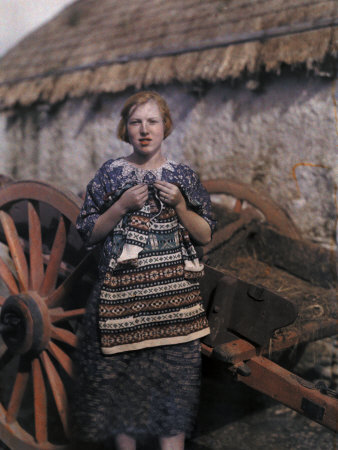 Young Girl Knits a Wool G…
Clifton R. Adams
The snowflakes patterns on many Scandinavian and Scottish designs and those of Northern Europe can be traced back to similar designs from the Moorish and the Middle East travellers. The designs were adapted to suit local sensibility and create a domestic market.
In the mid-18th Century the hosiery industry blossoms. Stockings are produced on knitting frames in the UK and exported to Europe and beyond. Woollen manufacturers are based in the Borders of Scotland and Nottinghamshire in England.
The fashion for knitwear soon expands to other items such as accessories: hats, shawls, gloves, bags, bedclothes, although stockings remain the most popular until the 20th Century.
19th Century
In 1816 the first circular knitting loom is built in England. This allows for the making of commercial stretchy tubular seamless fabric – ideal for undergarments.
Fashion magazines grow in popularity across Europe, promoting new designs for knitwear. All this to be consumed by the rising middle-classes or to be made at home by women. Women start knitting their own baby clothes and petticoats too. The first knitting magazine is published in England and the idea grows across Europe throughout the century.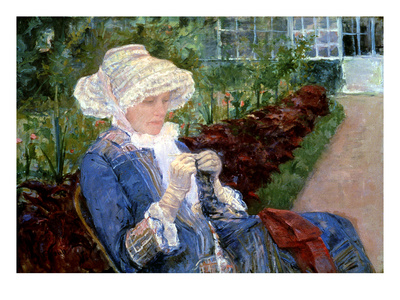 Cassatt: Lydia, 1880
Mary Cassatt
In the mid-1840s there are 2600 stocking frames operating in the Scottish Borders. By the late 19th Century there are over 250 woollen mills in Scotland. There are also finer raw materials available by this time, such as imported cashmere.
1853: textile industrialist Eugene Rodier sets up his first textile factory. He is the inventor of jersey-knit which was inspired by the jumper worn by Jersey fishermen.
In the late 19th Century there is a fashion for Dr Jäger's knitted underwear, produced in Austria and Germany. Knitted wool underwear is marketed as therapeutic and hygienic. This creates a fashion for wool undergarments which, in time, encourages the use of knitted wool for sportswear.
Early 20th Century
In the early 20th Century, the commercial production of knitwear grows from underwear to fashionable outerwear. Casual sportswear becomes increasingly popular along with an interest in exercise, outdoor activities and fitness.
Chamonix Mont-Blanc
Francisco  Tamagno
People spend leisure time outdoors and become more interested in skating, tennis, cycling, riding, hillwalking, skiing, swimming, golf etc. The list is endless. Knitted woollen garments and jersey or silk knitwear become the popular choice for a new fashion. The casual sporting fashion includes sweaters, pullovers, vests, swimming costumes. The sweater is considered a healthy garment in that it encourages you to sweat and so prevents colds. These garments are simple in style and shape with little or no embellishment. People soon get used to the idea of sporting fashion as unfussy, modern and hygienic.
Knitting groups ensure that women are able to contribute to the war effort by knitting garments for the troops on the frontline (balaclavas, tanktops). These knitwear donations get the soldiers through harsh winters in the trenches.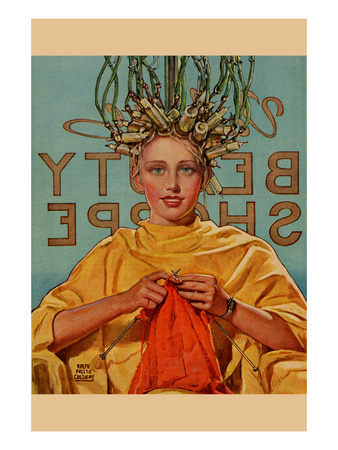 Woman in Curlers Knits
Home Arts
Jersey knitwear: cotton jersey is still used for sportswear today. It is first used for swimwear and then developed for underwear.
Coco Chanel and jersey
In 1916 Chanel launches jersey dresses and sailor cardis and jumpers. Her pioneering use of jersey in fashion brings knitwear into the modern era for women. After the outbreak of World War l, fussy fashion details are frowned upon and replaced by a simpler, practical sensibility. Post World War l, this encourages simple, uncluttered garments to become the fashion and older styles of adornment and decoration to be considered as old-fashioned and wasteful.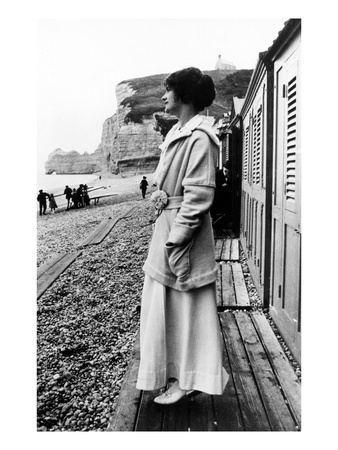 Gabrielle 'Coco' Chanel
Women are more physically active than before and casual sporty styles are seen as functional and elegant. Chanel negotiates the exclusive rights to jersey-knit material from Eugene Rodier. Simple, knitted, tubular dresses become her trademark and the height of elegant, modern fashion. Chanel also designs knitted beachwear and theatre costumes in this period.
1920s
In 1921 a publicity campaign by the Shetland Wool Board boosts popularity of Fair Isle patterned knitwear. This comes after a jumper was worn by the Prince of Wales (the future Edward Vlll) when playing golf at St Andrews in Scotland. This royal seal of approval causes Fair Isle jumpers to become the height of fashion for years.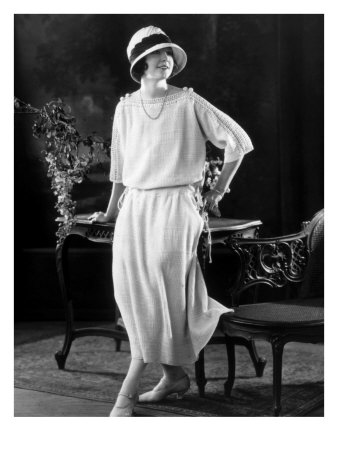 White Silk Knit Dress for…
The haute-couture designers develop a new obsession with knitwear and encourage something considered warm and practical to become something chic, modern, commercial and fashionable. The new modernity reflects a new fast-paced world where bodies require comfort, convenience, efficiency and freedom.
Jean Patou: inspired by modern abstract art, he creates colourful knits with bold patterns for sportswear. His first knitwear collections sell in the boutiques of the rich and fashionable French Riviera of the 1920s and 30s: sporting clothes, bathing costumes and jersey-knit dresses.
Elsa Schiaparelli: geometric, abstract shapes on jerseys for smart, fashionable women. Schiaparelli, inspired by Surrealist art, incorporates modern materials, techniques and designs into her work. This includes zippers and trompe-l'oeil patterning. Schiaparelli produces casual beachwear for the fashionable and modern.
Manmade viscose and rayon fibres begin to enter knitwear fashion and textiles. The popularity of knitwear filters down into the mainstream fashion. Anyone with disposable income can be seen wearing the latest sporty, fashionable, comfortable styles.
1930s
Fair Isle pattern knitwear is still popular thanks to royal approval. It is a style that shows creative combinations of colours to use up small scraps of yarns. In the Economic Depression era of the 1930s this becomes a popular knitwear design.
For women, knitwear could be dressy with fancy, decorative collars or casually-tailored and boxy. For men, the sporty looks continues in fashion.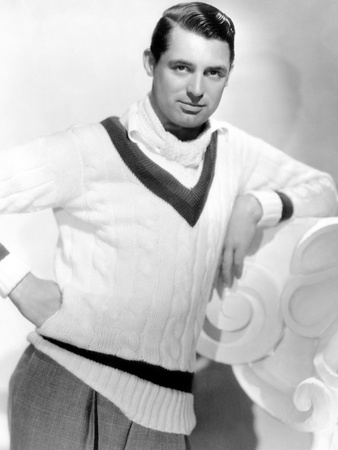 Cary Grant, 1934
In the 1930s Otto Weisz, head designer at Pringle, develops the idea of knitted twinsets to be included as a luxury knitwear item in soft colours.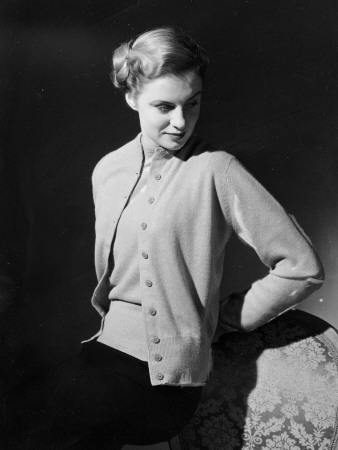 Wolsey Knitwear
Chaloner Woods
1940s
Figure-hugging sweaters become highly desirable and fashionable. Lana Turner, Ava Gardner and Jane Russell popularise this look. Sleeves could be short and puffy or long and slender.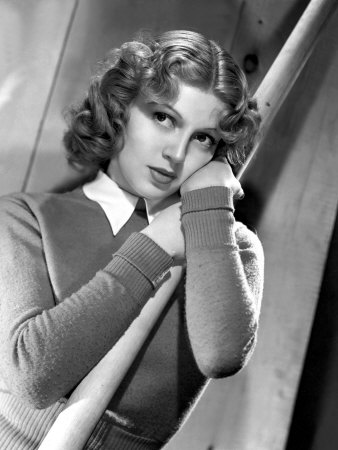 Lana Turner, 1939
The twin set really gains popularity. It comes in a large variety of colours and hues. Collar necklines are usually high and rounded.
World War ll
Make Do and Mend campaign – knitting for victory! Women are encouraged to recycle wool and knit garments for the soldiers, once again, as part of the war effort. After the war, clothing and yarn is seen as a durable asset for those who want to take part in utilitarian fashion. Recycling garments becomes the 'done' thing.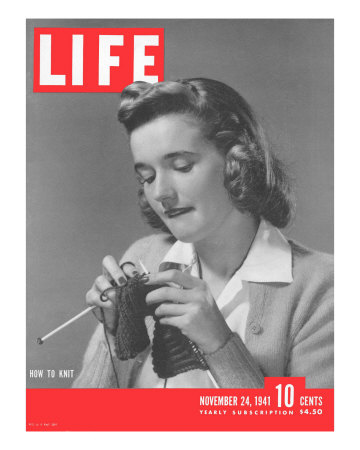 How to Knit, November 24,…
Gjon Mili
In 1945, at Schiaparelli's Paris boutique, Laura Aponte becomes known for producing knitwear from recycled wool using jacquard patterns.
Emilio Pucci designs jersey knit dresses for the USA market from 1948. The designs are practical and modern.
Knitwear collar styles are varied (v-neck, square-neck, turtle neck). Dolman and raglan sleeves become popular.
1947: Ottavio Missoni produces wool tracksuits for the first time.
1950s
Home knitting becomes very popular and the domestic knitter has many colours and pattern styles to choose from.
Twinsets are as popular as ever with home knitters and also to buy as fashion garments. The twin set is seen as a versatile wardrobe staple from the young and sexy to the older and more conservative. It could be both classic and fashionable depending on how tight you wear it.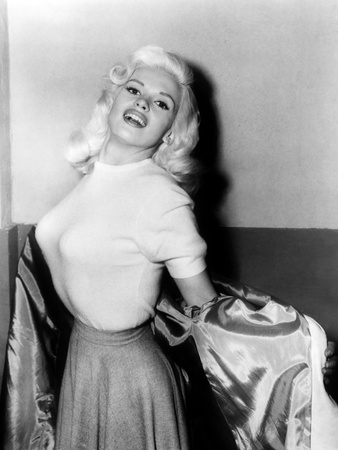 Jayne Mansfield, Portrait
In the mid-50s Chanel returns again to produce the Chanel knitted suit that is now considered a classic.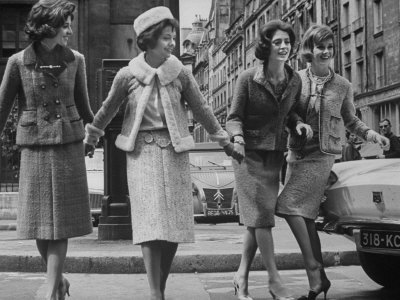 Suits Designed by Chanel
Paul  Schutzer
Italian, casual sporty knitwear becomes a fashionable choice for trendsetters and movie stars. The Italian knitwear is stylish and classy but not too fussy.
Technology also ensures that knitwear could be produced efficiently, uniformly and relatively cheaper on a mass scale. Man-made modern fibres are increasingly used to create easy-to-wash, crisp, modern styles.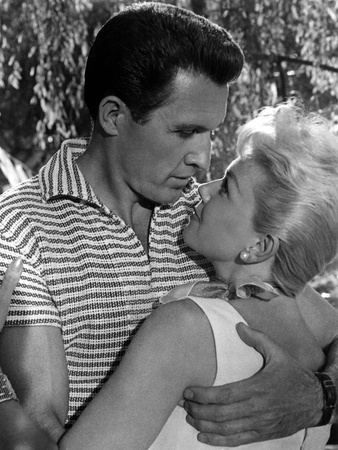 The Pajama Game, John Rai…
1960s
Mary Quant launches the mini-dress, a range of jersey-knit a-line dresses.
In the mid-60s Missoni knitwear becomes popular using the trademark zigzag colour look.
Sonia Rykiel becomes well-known for striped sweaters and preppy sweaters.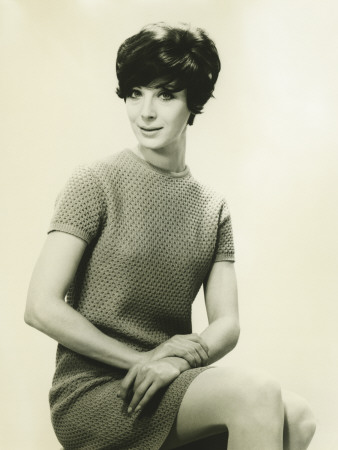 Woman in Knit Sweater and…
George Marks
As in the 1920s, knitwear represents all that is modern, informal, comfortable and anti-tradition. Knitwear is embraced by youth culture.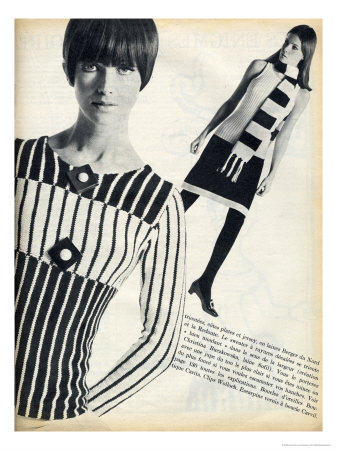 1960's Pop Knitwear
The Benetton brothers introduce the idea of value-for-money knitwear.
1970s
Casual, chunky knits and cardigans are fashionable. Sportswear is developed further. Domestic knitting machines are used at home.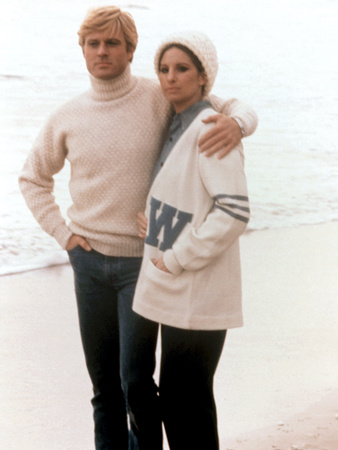 The Way We Were, Robert R…
Starsky cardigans, college sport cardigans, chunky Scandinavian knitwear for men is popular.
Craft-revivalist traditions around knitting emerge as people look (with nostalgia) to a past where hand-knitting had character in contrast to the homogenous factory machine-made knitwear.
In the late-70s, punks liked to rip their knitwear and make holes to deconstruct style and fashion. To destroy rather than create is the philosophy behind punk fashion.
1980s
The decade when sportswear becomes fashionwear.
The popularity of hand-knitting wanes especially amongst the young. Although it is still being taught in schools, it is not popular as a practical skill and has an old-fashioned image. Knitwear is now affordable and mass-produced. It's considered a less time-consuming option to handknitting a garment yourself. Knitwear fashion becomes almost the opposite of the 'make do and mend' catchphrase of the 1940s.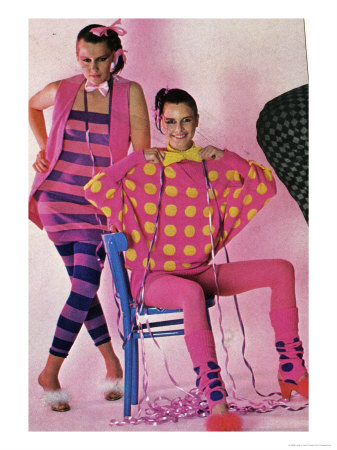 1980s Knits
Knitwear for men produces many daring colours and patterns. Unisex knitwear and ski knitwear in jazzy colours gets popular with both men and women. Golf knitwear in pastels and garish colour combinations allow males to become peacocks. As in the 1920s, flashy sportswear becomes a sign of conspicuous consumption by those who can afford to buy.
The punk influence continues with eg Comme des Garcons jumper (with purpose-made holes) from 1982.
1990s
Deconstructed knitwear is influenced by the ripped punk fashions of the 1970s. Androgynous styles of knitwear are the height of style.
21st Century
Handmade becomes popular again and crafters are making money from knitting and other crafty skills. There is easier access to exotic yarns and materials especially through the internet. Handmade styles can now be sold internationally at a premium price, whilst mass-produced factory-made knitwear continues to get ridiculously cheaper and cheaper.
So, what is the future for knitwear? We will have to wait and see?
Bibliography and further reading
A History of Hand Knitting

by Richard Rutt, 1987, Interweave Press.
The Culture of Knitting

by Joanne Turney, 2009,
Knitting Book

by Mary Thomas, 1972, Dover
Complete Encyclopedia of Stitchery

by Mildred Graves Ryan
Traditional Knitting Patterns from Scandinavia, the British Isles, France, Italy and Other European Countries (Dover Knitting, Crochet, Tatting, Lace)

by James Norbury (1973)