Find vintage knitwear the easy way
What do we do when true vintage knitwear is hard to find? Sometimes it's fine to cheat a little. We can't all be perfect. Have you ever tried to find a pre-1960s vintage jumper in a charity shop, or even online? It can be very difficult and there are a few reasons why.

Moths love vintage knitwear
It's not just that moths have great taste in expensive woollens or precious vintage knitwear. They do love 100% wool (but not exclusively, as I've found out – the hard way). Like Marvin and Tammi, moths know there ain't nothing like the real thing (baby).
In the old days it was verging on the suicidal to leave your twinset or soft cashmere sweater on a chair overnight. It had to be safely packed away in the wardrobe, guarded by a mothball or five. So, quite often knitwear could get ruined overnight, eaten by moths and rendered unwearable. It's a shame but it's true.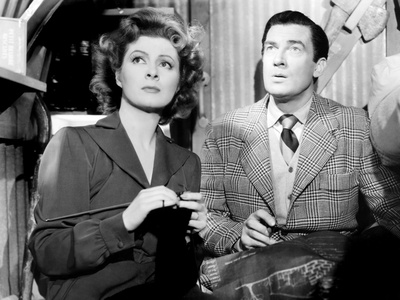 Mrs. Miniver, Greer Garson, Walter Pi…
Make Do and Mend
It's 1943. There's a war on. In the UK, the Ministry of Information issues a booklet to instruct people (well, women, mostly) how to get by on just the basic rationing. This includes clothes rationing and we are encouraged to prolong the life of a garment.
The rationing of clothes became an important and conspicuous part of the home-front war effort in Europe . It was the done thing as everything was in short supply, whether you liked it or not.   For knitwear, this meant that you would not throw away anything. So, if your jumper got a hole in it or became worn, you would unravel the knitting and make something new. Perhaps a cushion, a hat, gloves, a scarf – anything as long as you did not throw away the wool.
Knitwear doesn't age that well
Pre-1960s knitwear had to be looked after as much as a puppy or a small-child today. Garments fade, snag, go out of shape. It could easily come to harm if not looked after carefully: hand-washing, no wringing, drip-drying, careful storage.
Caring for vintage knitwear is not convenient – but it's worth it if you love a garment. But, sadly,  many lovely pieces deteriorated over time and became unwearable. This is why vintage patterns are so treasured. They allow you to get as close as possible to the authentic vintage fashions that you crave.
So, much like underwear and shoes, I prefer to buy my vintage knitwear new and "retro style". So, what to do to get your vintagey knitwear fix? Here's a few hints…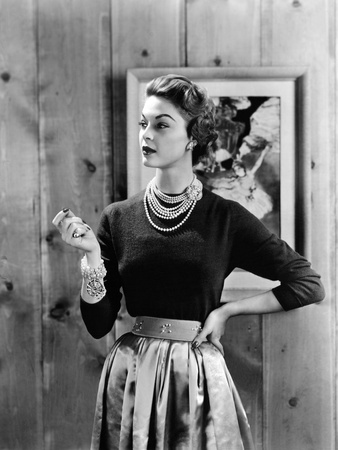 Black Cashmere Pullover W…
1. Buy retro from charity shops and thrift shops
Shop in charity shops/thrift shops/second-hand shops (what ARE they calling them these days, dear? I can't keep up) for retro second-hand knitwear.
Finding something authentic-looking can be almost as satisfying as the real deal provided the styling is spot-on. Do a little research on your favourite styles so that you can spot them lovingly across a crowded room.
2. High street shopping
While you're indulging your vintage-loving years, remember to keep an eye out for high street fashion trends that may just fit the bill. Once you've found out that Fair Isle patterns are all the rage then seek out the authentic looking ones. Then buy, buy, buy, until you feel sick (or is that just me?).
A.B.L. – stands for Always Be Looking for that vintage styling that may be in and out of fashion as quick as a wink.
Better still, buy it end of season when it's going out of fashion and at a reduced price. Keep it for a while and get it out when everyone has forgotten all about last year's must-have.
I did this when 1930s and 40s styling was all the rage in the mid-2000s and I'm still reaping the rewards of some of those finds – long forgotten by the fashionistas of yesterday. Ha! Who's laughing now, fashionistas of yesterday.
I'm wishing and waiting and hoping for this amazing men's jumper and this men's cardi to go on sale at People Tree. It may never happen! C'est la vie.
3. Shop online for vintage knitwear
Online vintage shops. There are many but you won't find a lot of true vintage knitwear from before the 1950s. You may well find a few things from the 1950s and 1960s but be prepared to pay. These items will have been kept together using meticulous conservation methods over the years.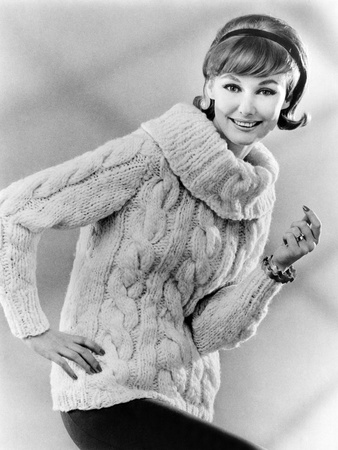 Sweater with a Large Cowl…
If your taste lies more in the 1970s and 1980s, then knitwear is more available to you online. Everlasting man-made knits were whacked out on an industrial scale in these decades (much as they are now). They're affordable, usually, being a wool mix and of less interest to our little moth buddies and also easy to wash and care for.
Vintage Vixen has lots to offer in knitwear. Also try some lovely winterwear at Brick Vintage for women and That Indie Look for men.
4. Go on, knit it yourself
It is great to go down the hand-knitted route. Your knitwear can at least look authentically classic if it is handmade from a vintage pattern.
If you can knit, the world of vintage patterns is your oyster. If you can't knit then…well…well…just learn to knit. Or, you could find someone who loves you (who can knit). This person must also want the challenge of a pattern written on another continent (from another era) just to see that happy vintage-loving look on your face when it's done.
When you find a vintage pattern, make sure it is a style that you love, love, love, with all your heart. You don't want to abandon the garment that your loved one has spent six months toiling over. The moths will love to see it sitting out on a chair of "half dirty-half clean? not sure" pile of clothes. Don't you have one of those chairs? Are you sure? Perhaps yours is just a pile on the floor by the bed. I've been there too.
I love these free vintage patterns at Vintage Purls. Also, A Good Yarn has a selection of free vintage patterns here. The A Good Yarn page is fascinating, even if you have no intention of knitting something, you could still be there for hours. Look out for the swastika-patterned jumper, made long before Hitler got his claws on the symbol.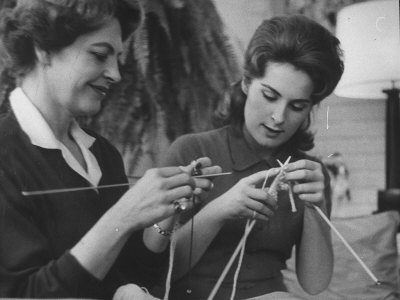 Prisca Bunau-Varilla at Home with Her…
Nina Leen
5. Pay someone else to knit it for you
Ha, buy new knitwear online that is made from vintage patterns. Easy, no? However, this stuff is pricey and so it should be. Someone is making this for YOU with their BARE HANDS all day long. It's worth it, trust me.
Make sure you buy from somewhere that has a good reputation. Scottish knitwear is great for this and vintage patterns such as Fair Isle are all the rage, don't you know?
Authentic hand-made Fair Isle knitwear by Shetlanders – if you have the budget it is well worth it. To be honest these knitters don't get paid enough in my opinion for what amounts to at least two weeks of full-time knitting.
So, that was a little rundown of my recommended vintagey/retro-ey (retro-ey? oh dear), knitwear-relatedy advisory ways to find vintage knitwear – the easy way. Stay tuned for the hard way  more knitwear tips coming soon.

Related posts:
Follow this up with a history of knitwear or find out how to identify vintage zippers (clue: it's not as easy as you might think).