Get the 1940s look – daytime hair
Try these easy 1940s hairstyles. For those times when you want to get the look quickly and (almost) effortlessly.
Here are my current favourite "how to's" for simple 1940s daytime hairstyles. Easy peasy. Great for beginners and low maintenance vintage-lovers (who, me?).
Sturdy enough to last through an air-raid or an afternoon raiding the charity shops. These daytime looks are so practical and easy that even Lauren Bacall would be impressed.
Think 1940s hairstyles are complicated? Think they take hours to perfect?
Think again. With a little patience you'll be rolling and pinning in minutes.
---
Daytime Dorothy hairstyle
In this first video, chanteuse Leanne Fury (and Natalie Wood lookalike) shows us the easy way to get a Judy Garland-inspired 1940s daytime look. Well done Leanne! She makes it look so easy, it's scandalous. I love this. I've been practising in front of the mirror whilst wearing my ruby slippers.
---
Natural 1940s hairstyle
This is a simple way to get a 1940s look that could also be great for a night out. Give it a try. You just need some rollers and a little bit of sass.
---
1940s five minute hairstyle
Aubrey London gives great hair tutorials. This is a wonderful low-maintenance daytime look that anyone can try. It will give you that hint of 1940s without looking like you're trying too hard.
---
The hard stuff
Now, are you ready for victory rolls?
These are used in a typical 1940s hairstyle but they're a tad more high-maintenance. It's a fiddly job, though.
Here's Simone Simon, rocking a victory roll in Cat People (1942).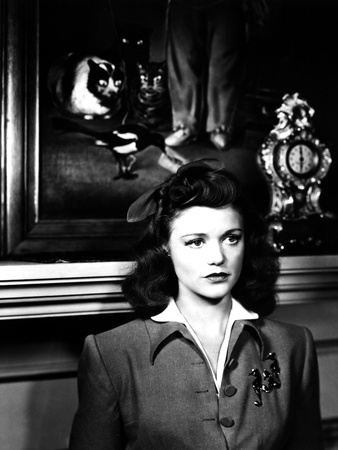 Cat People, Simone Simon
If you've watched the videos above and you're ready for a greater challenge, the lovely ladies at Lipstick and Curls can talk you through the victory roll here. Think of it as a starter before you launch into trying it yourself. You can hire Lipstick and Curls to do your hair too – visit them to find out more.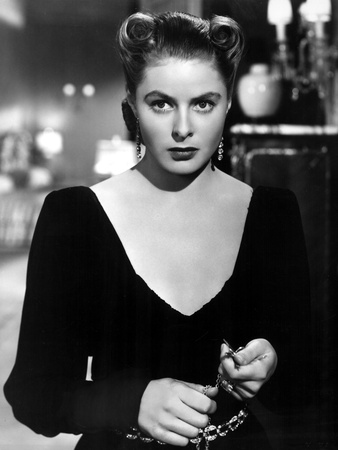 Notorious, Ingrid Bergman, 1946
---
…and finally
It wouldn't be V is for Vintage if I didn't give you a little history with your hairdo. So…
Back in 1942 women everywhere were loving the Veronica Lake peekaboo hairstyle. They loved it so much they were copying the look: having long hair over one eye.
In late 1942, Veronica starred in a PR stunt for the US government. The US had entered World War II and women were doing the men's jobs now. This stunt was a bid to get women pinning their hair back for a more practical look whilst they were in the factories and farms.
As you can see, in the 1940s there wasn't that much time to fuss around with your hairstyle now, was there? You had to get out to work. It's a great newsreel video. Watch it below.
So, it's not so difficult to achieve an authentic 1940s look with daytime hair that won't take all day to put together. Give it a try. If you want to see more 1940s hair, take a look here for short hairstyles or browse the 1940s shop.
Other looks to try at V is for Vintage:
Get the 1920s flapper look
---
V is for Vintage recommends…
1940s Hairstyles (Vintage Living)

by Daniela Turudich