What happened in 1900?
An outline of significant events that took place in the year 1900.
Also some galleries of images to illustrate the culture, art, design, cinema, fashion and photography of 1900.
Background History
The Boer wars continue.
Launch of worldwide Open Door Policy to promote trading with and non-interference in China.
British Labour Party and the US Socialist Party formed.
German women demand right to participate in university entrance exams.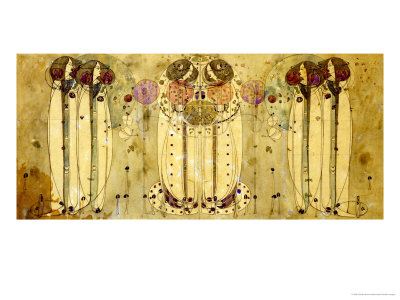 The Wassail, 1900
Charles  Rennie Mackintosh
An outbreak of bubonic plague in Sydney, Australia.
The Prince of Wales is shot by an anarchist on a visit to Belgium.
Hawaii becomes official US territory.
The Commonwealth of Australia Constitution Act passes through British Parliament: first Prime Minister Edmund Barton is selected.
Winston Churchill is elected to British Parliament for the first time at age 25.
The first electric bus began operating in New York City. The last horse-drawn street car is retired from service in Boston as electric public transport takes over.
London epidemic of influenza.
Absinthe Bourgeois, c.1900
The Paris World Exhibition takes place April 14 – November 12. Highlights include Art Nouveau designs, the astonishing Electricity Palace lit with electric bulbs, and the first ever moving walkways.
The Second Modern Olympic Games opens in Paris on May 14 (it is a part of the Paris World Exhibition). Women participate for the first time.
The first zeppelin flight takes place in Germany.
In Paris, Le Métropolitain underground transport system (first line) opens on July 19 during the Paris World Exhibition. Station entrances are designed by Hector Guimard. Their style popularised Art Nouveau.
William Eddy patents the kite.
Nikolai Tesla patents wireless transmission of electrical power.
A moving stairway invention by Charles Seeberger is patented as an 'escalator'.
The opening of the Gare D'Orsay, Paris. It's the first electrified urban rail terminal.
Sigmund Freud publishes The Interpretation of Dreams
---
Design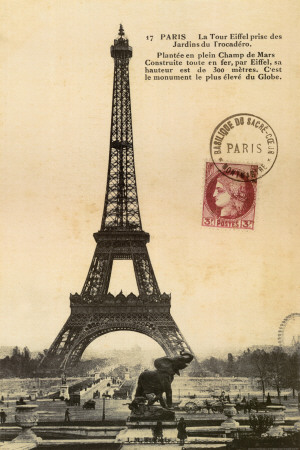 Paris 1900
The Paris World Exhibition opens on April 14 – November 12. The Pavilion of Art Nouveau showcases the peak of achievements in the new design. A showcase of jewellery by René Lalique is popular.
The Société des Artistes Décorateurs is founded to create new standards for French design and production.
Antoni Gaudí begins work on designing Park Güell in Barcelona.
---
Cinema
At the Paris World Exhibition the Lumière brothers present the Cinematograph:  films are projected on the widest ever screens (75mm) in a 25 minute programme. Also the Phono-Cinema-Theatre by Henri de France Lioret and Clément-Maurice Gratioulet shows the first ever film to be synchronised with sound.
The first ever Sherlock Holmes film is screened. Sherlock Holmes Baffled is a 30 second one-reel film. Directed by Arthur Marvin. Watch it here
James Stuart Blackton produces the first-ever stop motion animation, The Enchanted Drawing.
---
Photography
Eastman Kodak Company launches the first Box Brownie portable camera. It costs $1, making photography more affordable to many. A total eclipse of the sun this year (near Mexico) becomes the most photographed event ever.
---
Art
The Vienna Secession exhibitions, Austria. A show of Japanese art and works by Klimt, Signac, Degas, Charles Rennie Mackintosh and the Glasgow Four. Klimt's painting Philosophy (for Vienna University ceiling) is considered scandalous and Mackintosh's work (considered decadent by the British) is celebrated.
A 19-year-old Pablo Picasso arrives in Paris. He lives – and paints – in Montmartre until 1907.
Impressionist Claude Monet begins painting the Houses of Parliament series in London, UK.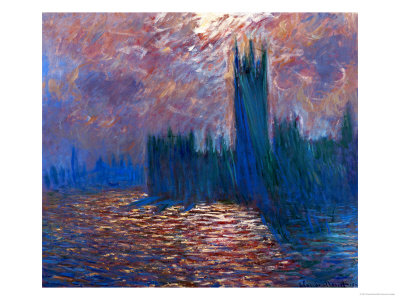 London, the Parliament; Reflections o…
Claude Monet
---
Fashion
Footbinding of girls' feet is officially made illegal in China.
In Europe: hats and furs are IN. Puffy sleeves are OUT. For men, suits with a tapered trouser leg and  hats are required for day and evening wear.
Hair continues to follow the Gibson Girl ideal.
The corsets that create an S-shaped silhouette for women are still predominant but the chest is not so big. That's what this cartoon from France, below, is all about.


Here's my gallery of 1900 fashion on Pinterest:


---
Theatre
Puccini's Tosca premieres in Rome, Italy.
US dancer Loie Fuller impresses at the Paris World Exhibition.
Controversial play Sapho opens on Broadway, New York. It becomes infamous for controversial depictions of gender and sex. The play is shut down while an indecency trial takes place. It reopens a few months later after the organisers are acquitted.
WC Fields becomes a vaudeville star in the US at age 20. He goes on to tour Europe.
Scotland's Harry Lauder debuts in London after winning a talent contest.
---
Literature
Mark Twain returns to the USA after living in Europe for almost a decade.
The Wonderful Wizard of Oz by Frank L Baum is first published. The first edition sells out in two weeks.
Oscar Wilde dies in Paris.
---
Pinterest gallery of 1900 fashion
Pinterest gallery of 1900
Pictify gallery of 1900
This 1900 post and Pinterest/Pictify pages get added to as time goes by.
Please do leave a comment below if you think something should be added to the timeline or galleries.
See what happened in other years in the 1900s

---