something for the weekend : Clara Bow

Like most Hollywood starlets and flapper girls, there have been many scandalous rumours about Clara Bow. Some have been misunderstandings. Others were dollops of gossip taken for fact or added to over time. Others are downright lies that came from an active campaign to discredit a woman who did not fit the model of a perfect human being – let alone a polished movie star. But, we all know that Clara was the cat's pajamas, right? Read her biography here if you're not sure.
Anyway, here are a few links to sites which address those rumours and myths rather than perpetuate them. Hooray, I say.
The wonderful (but now dormant) blog They Had Faces intelligently explores the Clara Bow secret nazi myth. Read the comments. It's tough to be objective sometimes, I know. But, let's face it, the swastika did not have the strong negative, provocative, definitive connotation pre-1930s that it does now. It was once considered a symbol of luck. Don't get hysterical, get historical.
Another myth about Clara was her sexual antics. She was no saint but she didn't get up to half the things that were claimed. The Snopes urban legends website, by Barbara and David Mikkelson, is dedicated to finding the truth behind urban legends. Here's a scandalous myth about Clara Bow that isn't true.
The talkies did not destroy actors' careers overnight. It's generally a myth, perpetrated by Singing in the Rain and assumed by The Artist. A few careers did end ultimately as a new cinema culture and skills emerged. But rarely did an actor have to pack their bags purely because of their voice and accent. Clara Bow is no exception. Here is Hala Pickford, blowing the cobwebs off the talkie myth about Clara and others. Hala knows her onions.
I recommend this post from gossip academic Anne Helen Petersen which sums up the scandal that surrounded Clara Bow at the time.
That's it. Have a lollapalooza weekend. Have fun. Stay up late. Enjoy.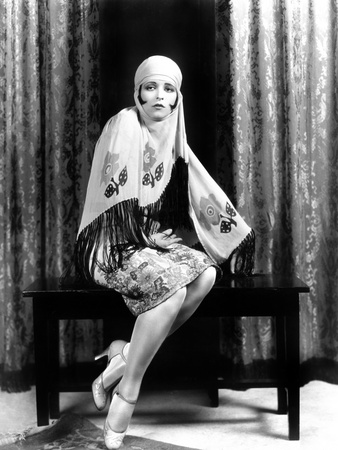 Clara Bow, ca. Late 1920s
More Clara Bow at V is for Vintage