The importance of being Cubist
New York's Metropolitan Museum of Art has recently received a substantial donation of Cubist art from Estée Lauder heir Leonard Lauder. Cubism and Impressionism are considered the two artistic movements that have most radically changed art and Western culture.


Why was Cubism such a radical movement?
Try to imagine what it must have been like to see these difficult works of art for the first time and to take them seriously. The world had finally accepted Impressionism as legitimate with its abstract marks on a canvas representing nature and light. Cubism took this another step forward. Well, more like a giant leap.

Lauder's collection contains 78 artworks. It mainly covers the period of 1909 – 1916, a time when Cubism was first unleashed into the world. It was the deliberate experiment of an informal collaboration between Pablo Picasso and Georges Braque. There are also artworks by Fernand Léger and Juan Gris in the collection. What was so exciting about that period? Let's take a look.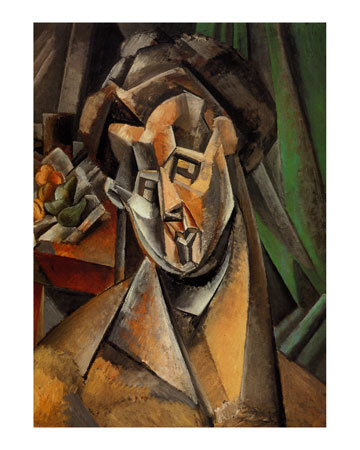 Woman with Pears, c.1909
Pablo Picasso
1909–1910: Picasso and Braque collaborate
The two artists met in 1907. They were already successful and came together in Paris to socialise and experiment with a new ideology in which their painting styles developed. The term 'cubic' and 'cubist' was used to describe how the artworks looked to critics. They seemed block-like and eccentric.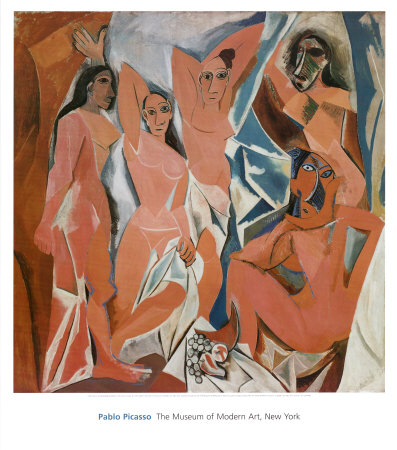 Les Demoiselles d'Avignon…
Pablo Picasso

Picasso had been working on sculptures inspired mainly by African art. His work showed several different angled views on the same sculpture. He had just finished his controversial painting Demoiselles d'Avignon (above). Picasso was experimenting with the two-dimensional plane and established notions of what 'good' art was in Western culture.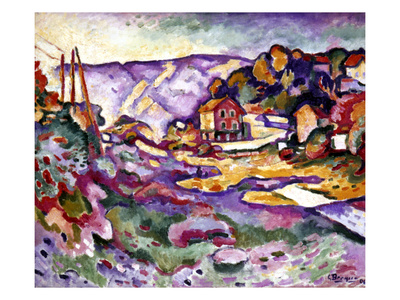 Braque: L'Estaque, 1906
Georges Braque

Braque was also experimenting with viewpoints, inspired by Paul Cezanne's pioneering works. Picasso and Braque were experimenting not with physically representing different points of view but to use these references to make a single image that would merge views into one artwork. The painting could offer a subjective but recognisable view based on a mixture and overlapping of 'reality' and perception. They used dull colours in this period as their main experiment was with structure and form.

In 1910, the two artists separated for a while and painted outside of Paris. Their works became more fragmented and abstract but their subjects were still recognisable.

Other artists began to experiment with painting styles similar to the developing Cubist style. It was considered a natural progression of what Impressionism had started just a few decades ago.

---
1911–12: other artists join the circle
Picasso and Braque were now spending a lot of time together. Their artworks were looking very similar. They would sometimes tackle similar scenes or objects from modern everyday life and compare what they had produced. Like the Impressionists, they sought to find beauty in the everyday and the modern and to represent visual perception in a new and contemporary way.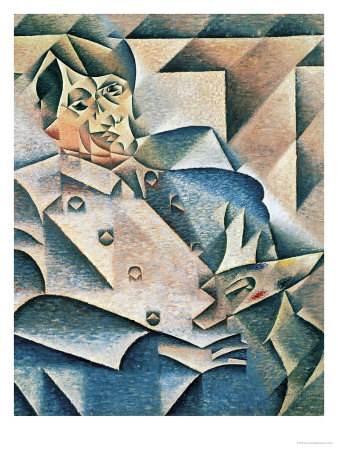 Portrait of Pablo Picasso…
Juan Gris

Juan Gris, also dabbling in the new style, spent the summer of 1911 with Picasso and Braque. The artists began to add typography letters and numerals to their work for fear that it was becoming so abstarct as to be unrecognisable to anyone. They also added objects to the work such as paper and collage of everyday things found around them. Instead of art depicting an object, the artwork became the object itself.

Fernand Léger was also experimenting with Cubist ideas. His art was showing a tubular style of representation and was also much influenced by Cézanne.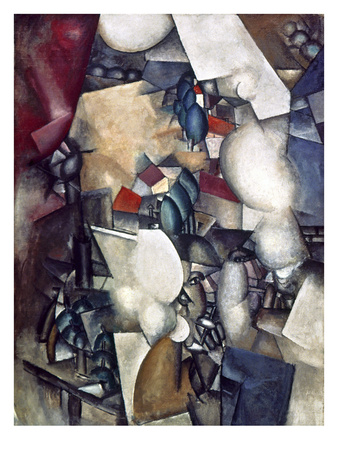 Leger: The Smokers, 1912
Fernand Leger
---
1913: collage and texture
The use of collage transforms Cubist style into a larger, bolder and simpler construction. For the first time painting has freed itself from the simple two-dimensional spatial representation based on rigid rules of perspective. Also, texture has been added to the picture plane.

In 1913, Cubism was officially introduced to America at The Armory Show in New York. It was a controversial exhibition but it opened up modernist art to a wider audience.


Braque: The Violin
Georges Braque
---
1914: the trauma of war
The outbreak of World War I meant that Georges Braque and Fernand Léger went off to fight. It was a traumatic experience that forever changed these artists and coloured the subsequent art work they made. Spanish-born Pablo Picasso and Juan Gris carried on the experimentation throughout the war.

---
How can we connect Cubism with other art forms and the changing culture of the 20th Century?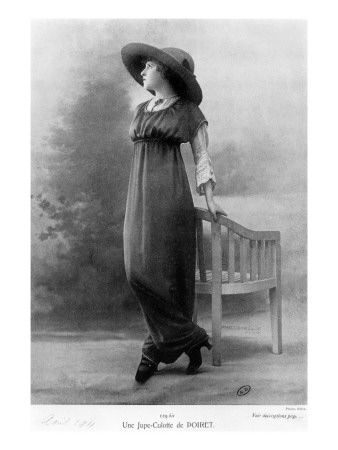 A Divided Skirt by Paul Poiret
Felix Studio
Cubism and fashion/textiles
Paul Poiret, Madeleine Vionnet and Coco Chanel were all influenced in some way by Cubism and its modern innovation. The reduction of forms into flat, angular and cylindrical shapes allowed modernist fashion designers to apply those principles to clothing and the body.

Fashion was also influenced by the collage techniques of Cubism, incorporating modern materials and abstract shapes into the design. Fussy details were abandonned for simplicity of design. Hourglass shapes made way for tubular, rectangular silhouettes. Flowing lines emerged into blocks, diagonals, angular and bias cuts. Cubism went on to influence the textile designs of Raul Dufy, Sonia Delauney and Paul Iribe.

---
Cubism and architecture/design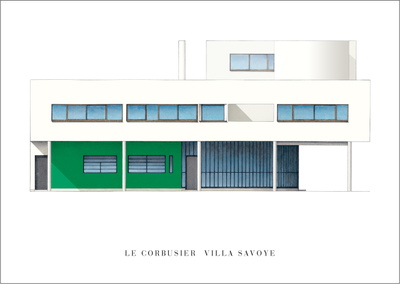 Villa Savoye, Nord-Est
Le Corbusier

Geometric and cuboid shapes appear in modern architecture around the time of Cubism. Simplicity overrides fussy details and form follows function. Fragmentation, experimenting with space and composition, simplifying shapes. It is easy to spot the Cubist influences in the later architecture and design work of individuals such as Le Corbusier and the Bauhaus designs that were to follow.

---
Cubism and photography/cinema
Photography was already forced to represent the three dimensional world directly in two dimensional form without any perspective trickery or techniques. Cinema expanded that into dynamic form.
Just as photography was influential to the Impressionists, so too was its widespread use to the Cubist artists. Picasso was known to be enthusiastic about photography and spent the summer of 1909 absorbed in his own photographic experiments.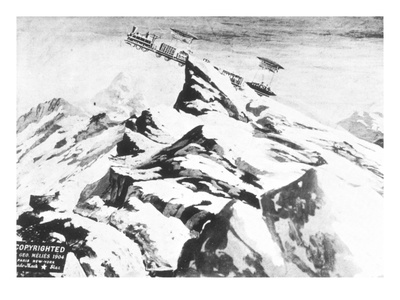 Melies: Backdrop, 1904
Both Picasso and Braque were film fans. They lived in Paris, the birthplace of cinema and where cinema was popular. Some believe that Cubism itself may have been inspired somewhat by cinema. The three-dimensional world flickered before the pioneering artists, coming to life on a two dimensional plane. In fact some of the fragmentation techniques and visual tricks used by Méliès can be felt in some of Picasso's works of this time.

The experiment of Cubism must also have had some effect on the further experimentation of photographic and cinematic styles. Cutting and pasting, editing, unusual angles, simplifying of the shapes and composition may have seemed eccentric ideas before Cubism.

---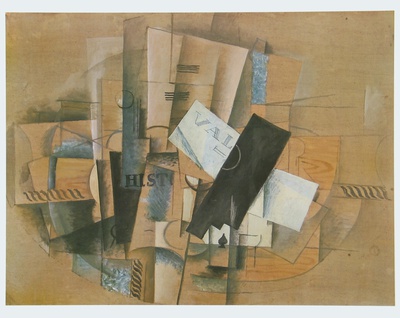 Gueridon, 1913
Georges Braque
The importance of Cubism
You can call it Modernism, Cubism, Abstraction, Avant-garde or Industrialisation. But however you want to name it, modern innovations were affecting all forms of arts, design, philosophy and society itself.

The turmoil of the years leading up to and during World War I found old certainties dying and international cultures beginning to merge. It's almost as if old cultures and identities were fragmenting under the influence of the world becoming a much smaller place – easier to access at least. This fragmentation of society and 'reality' was seeping into culture and imaginations.

It would seem that the attempts to simplify the complicated ended up complicating other ideas of perception and subjectivity. It could be that we are all still going through this turmoil, even today. Countries are still fighting odd wars and adjusting to the merging of different cultures. Perhaps we will only see things clearly the further away we get from them.

NB: the artworks shown here are not from the recently donated collection to the Met. They are examples of the styles of the period. You can view some of the donated Cubism artworks here on a slideshow an the Guardian newspaper website.
---
Bibliography and further reading
Cubism and Fashion, Richard Martin, 1999
Cubism and American Photography, 1910-30, John Pulz and Catherine Scallen, 1981

A Sum of Destructions: Picasso's Cultures and the Creation of Cubism, Natasha Staller, 2001

Cinema and Cubism 1900-1915, Gerald Noxon, The Journal of the Society of Cinematologists, vol 2, 1962

The 'Anti-photographic' Photography of Pablo Picasso and its Influence on the Development of the Movement Now Known as Cubism by Dana Statton, Washington and Lee University 2012.

---