What happened in 1905?
Do you know what happened in 1905? An outline of significant events that took place in the year 1905.
Also featuring galleries of images to illustrate the culture, art, design, cinema, fashion and photography of 1905.


History
Norway dissolves its union with Sweden.
Trans-Siberian railway is completed. It is the longest continuous railway line in the world.
The Simplon Tunnel in Switzerland is complete. Cairo-Capetown railway opens.
Peasant revolution takes place in Russia. It begins with Bloody Sunday on January 22, the result of a peaceful protest in St Petersburg, led by a priest. Hundreds die that day.

The Golden Nugget in Las Vegas
Loomis Dean

Las Vegas is born. It is a 100 acre railroad town in the Nevada desert offering needed refuge for travellers.
The first public protest of suffragettes takes place in London, led by Emmeline Pankhurst.
A cyclone devastates Tahiti and surrounding islands, killing 10,000 people. Earthquake in India kills 20,000.
The Hippodrome arena opens in New York.
World Exposition takes place in Luik, Liège, Belgium.
The war between Japan and Russia ends. Russia is defeated.
The Automobile Association (AA) is established in the UK.
HMS Dreadnought is completed, a pioneer in battleship design.
Aspirin is sold for the first time ever in the UK.
Sinn Féin Irish nationalist independence political party is formed in Dublin.
---
Art
Gustav Klimt and other artists secede from the Vienna Secession due to differences of opinion over artistic concepts.

A group of artists come together to show a radical exhibition of primitive colourful painting at Salon d'Automne in Paris. They are given a nickname, Les Fauves (The Wild Beasts). Artists include Paul Gauguin, André Derain and Henri Matisse.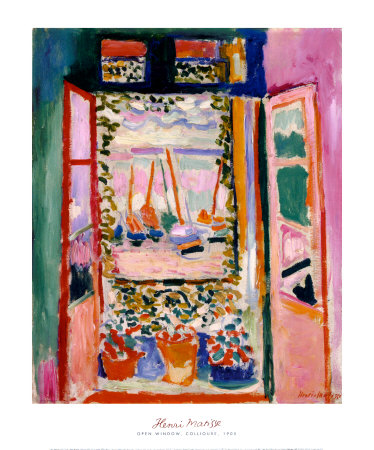 Open Window, Collioure, 1905
Henri Matisse

Another group of artists and jugendstil architects named Die Brücke (The Bridge) also come together in Dresden, Germany to explore and exhibit the concept of Expressionism. Led by Ernst Ludwig Kirchner, they took the realism and immediacy of the Impressionists and added the Symbolist idea of subjective perception. This was also a time when new ideas of psychology were being explored.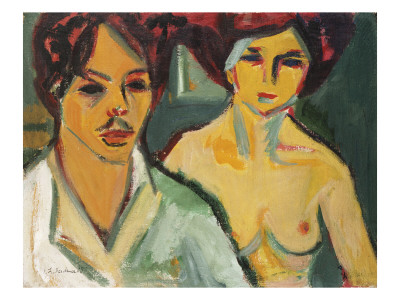 Self Portrait with Model, 1905
Ernst Ludwig Kirchner

Pre-Raphaelite artist Simeon Solomon dies.

Pioneering US sculptor Jacob Epstein establishes a studio in London.

---
Design
Musée des Arts Décoratifs is established at Pavillon de Marsan in the Louvre, Paris by members of the Union des Arts Décoratifs. The pavilion was built by Gaston Redon between 1900 – 1905. The collection has furniture, tableware, upholstery dating as far back as the 13th Century but also includes pieces from Art Nouveau designers such as René Lalique and Émile Gallé.
Plakatstil (Poster-style) is a group of German artists and designers making poster art in a new, modern style. New methods of offset lithography allow poster making to become more affordable and popular. The artists seek a new, simpler visual language that moves away from ornate styling.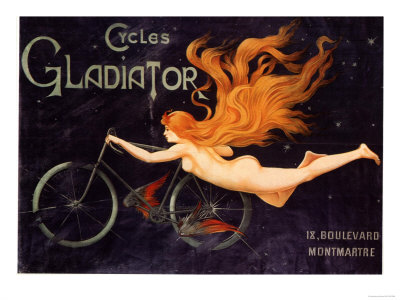 Gladiator Bicycles, France, 1905

Art posters for advertising grow in popularity and reflect the new Plakastil (poster style). Gone are the decorative flourishes of Art Nouveau. A new minimal style is creeping into advertising.

Ludwig Mies van der Rohe arrives in Berlin to begin his career in design and architecture. His designs catch the eye of progressive architect Peter Behrens.

---
Fashion
Embroidered boleros are popular this year with display belts showing off the waist. Plaid, silk, lace and linen are also popular.
Shirt-waist high-collared blouses with puffed sleeves and circular tailored skirt (or suit) is the daytime uniform . The shirt-waists are made with fine linen with lace or embroidery details.
As sporty, outdoor fashion for women grows in popularity, the sailor top is introduced. The collar has a handkerchief knot at the front and square flap at the back. It is unfussy, yet tailored and fresh, yet informal. The sporty sailor hat is also introduced.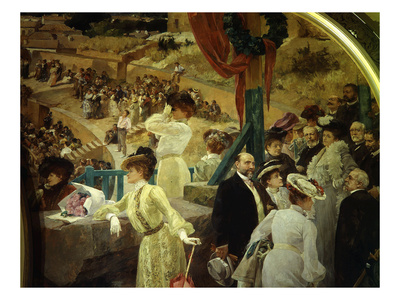 Theatre in Orange, France, 1905
Albert Maignan

Huge, broad-brimmed hats are popular, adorned with feathers, flowers, ribbons or even birds. Hair is gathered in a knot on top of the head and padded out using 'rats' made from discarded hair or horsehair pads.
Fancy trimmings are becoming less popular and the tastemakers are drawn towards simpler finish which is seen as more professional and tailored rather than home sewn.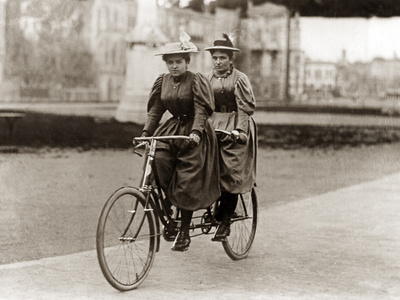 Tandem Riders in Berlin, 1905
Scherl
---
Cinema
The first permanent moving picture theatres are established in France.

The first ever 'nickelodeon' opens in Pittsburgh, USA. The nickel is added to the French term odéon as it costs a nickel to view a film or a vaudeville act. Pittsburgh shows the narrative film The Great Train Robbery from 1903. It contains the first known creative editing and jump cut.

Léon Gaumont ventures into film production in France.

French stage performer Gabriel-Maximilien Leuvielle plays bit parts in short silent comedies for Pathé under the stage name of Max Linder. French music hall star André Deed begins filming comedies, and creates the first screen personality recognized by the public.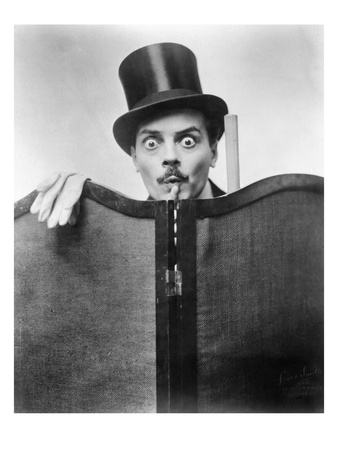 Max Linder (1883-1925)

Pathé adds colour to black and white film by machine for the first time.

In the USA, Marcus Loew and Adolph Zukor buy several penny arcades in Manhattan and Cincinnati with a plan to show films regularly.

Short narrative film Rescued By Rover by Cecil Hepworth is released in the UK. It uses new techniques of editing and travelling shots to help create suspense and atmosphere.

Italy launches its first ever film studio Film Ambrosio. The Sack of Rome is released, directed by Marcello Alberini.

Afghanistan gets its first cinema screening.
---
Photography
Colour photography is being produced and developed around the world. It is a somewhat complicated process involving three filtered photographic glass-plates and viewed through a chromoscope — a process pioneered by James Clerk Maxwell in 1855. The early experiments of developing colour photography are from Russian Sergey Prokudin-Gorsky, the American Frederic Eugene Ives and the German Adolf Miethe.

US photographers Alfred Stieglitz and Edward Steichen open Little Galleries of the Photo-Secession photo art gallery on Fifth Avenue, New York City. It was later known as 291.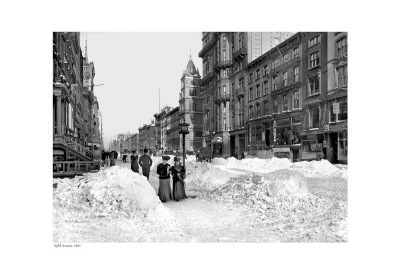 Fifth Avenue, c.1905
---
Literature
Arthur Conan Doyle publishes The Return of Sherlock Holmes.

Scottish writer George MacDonald dies. He has been an inspiration to other writers including Mark Twain, Lewis Carroll, CS Lewis and JRR Tolkien.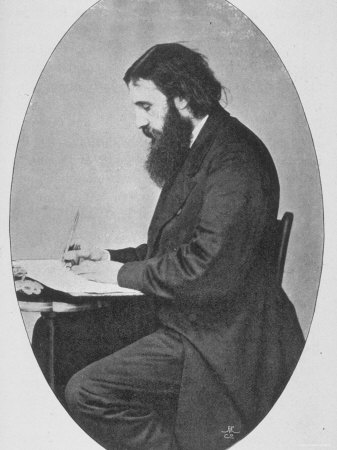 Portrait of George MacDonald

Where Angels Fear to Tread by EM Forster is published.

The Scarlet Pimpernel is published, written by Baroness Orczy.

Kipps by HG Wells is published.

---
Music
The opera Salomé by Richard Strauss débuts in Dresden, Germany. It's based on the Oscar Wilde play. It is a success despite being frowned upon as sacrilege and banned in Berlin, Vienna and London.

---
Theatre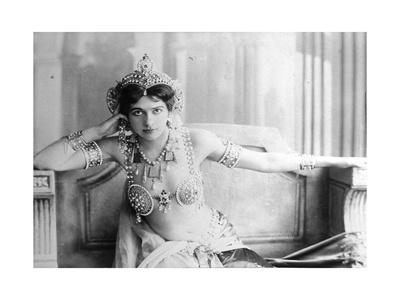 Mata Hari 1905
Reutlinger Studio

In Paris, Mata Hari first performs as an exotic dancer after her marriage to a Dutch aristocrat fails. Her dance routine is a success and becomes very fashionable.

Entertainment journal Variety is launched in the USA.

An actor named Groucho Marx gets his first vaudeville contract in New York.

Mrs. Warren's Profession by George Bernard Shaw opens in New York City. It is immediately closed down by decency crusader Anthony Comstock. Another Shaw play Man and Superman premieres in London.

US dancer Isadora Duncan tours Russia. She makes an impression on Diaghilev.

Pelleas und Melissande a play by Arnold Schoenberg premieres in Vienna, Austria.

---
Pictify gallery of 1905

Pinterest gallery of what happened in 1905:



This 1905 post and Pinterest/Pictify galleries are added to as time goes by.
Please do leave a comment below if you think something should be added to the timeline or galleries.
See what happened in other years in the 1900s