What Happened in 1906?
Do you know what happened in 1906? This is an outline of significant events that took place in the year 1906.
Also featuring galleries of images to illustrate the culture, art, design, cinema, fashion and photography of 1906.


History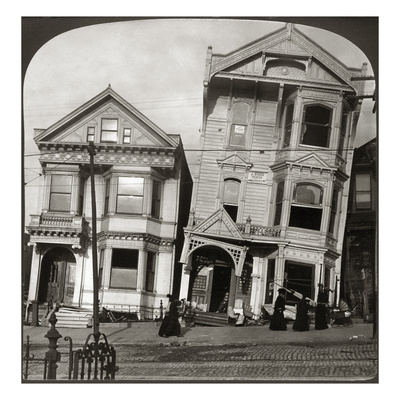 San Francisco Earthquake
Huge earthquakes in Ecuador, Chile (20,000 killed) and Colombia. San Francisco earthquake devastates the town killing over 3000 and leaving thousands homeless.
Finland introduces universal suffrage including votes for women and minorities but not the poor.
China makes steps to prohibit the trade of opium.
Mount Vesuvius erupts for almost a month, devastating Naples, Italy.
The Dreyfus Affair in France finally comes to an end after Alfred Dreyfus is exonerated.
Typhoon and tsunami in Hong Kong kills 10,000.
The first ever radio broadcast contains a poetry reading, violin solo and a speech.
International Radiotelegraphic Convention in Berlin makes the morse code SOS signal a worldwide standard distress call.
BCG vaccine for tuberculosis is first developed.
Albert Einstein introduces his Theory of Relativity.
Rolls Royce Ltd is formed.
Britain launches modern battleship HMS Dreadnought.
French physicist Pierre Curie dies.
Opening of the Simplon tunnel connecting Switzerland and Italy.
The Wright Brothers patent the aeroplane. Alberto Santos-Dumont flies 14-bis aircraft in Bagatelle, France in first recorded powered flight.
First ever remote control is demonstrated in Bilbao, Spain. Leonardo Torres Quevedo demonstrates guiding a boat from the shore using Telekino.
Launch of the Lusitania in Glasgow. It's the world's largest passenger liner.
---
Art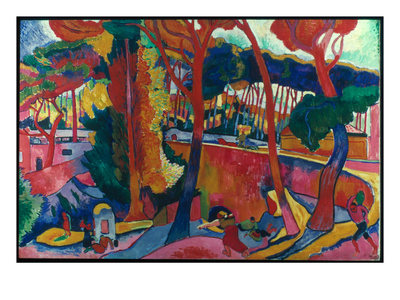 L'Estaque
Andre Derain

A young Juan Gris and Amadeo Modigliani arrive in Paris aged 19. André Derain moves to Montmartre with his wife Alice.
Paul Cézanne dies.
Rijksmuseum opens a rebuilt Rembrandt Hall in Amsterdam to show The Night Watch (1642) painting.
Claude Monet paints Waterlilies, oil on canvas.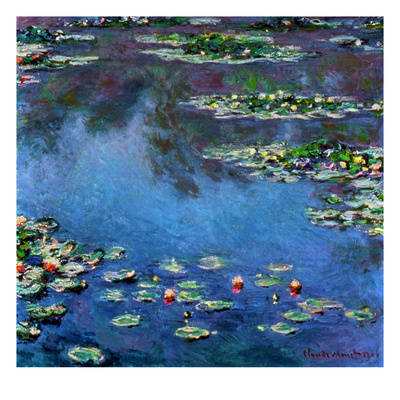 Waterlilies, 1906
Claude Monet
---
Design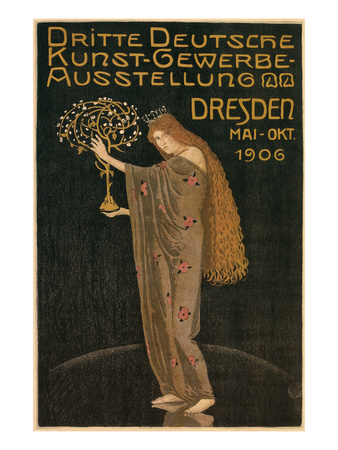 Poster for Dresden Art Exhibition 1906

Die Brücke group produces a manifesto, carved onto wood, and is prominent at the 3rd Arts and Craft exhibition in Dresden. It holds its first group exhibition later in the year.
Architect Stanford White is shot and killed by millionaire Harry K Thaw over an affair with his wife, actress Evelyn Nesbit.
Frank Lloyd Wright designs Larkin Soap Administration building in Buffalo and Unity Temple in Oak Park Illinois.

---
Fashion
Karl Nessler demonstrates the permanent wave device in London, England.
In corsets, women are wearing a slender line: the bustline higher then before and with the waist tapering from under the arms. For those who do not wear corsets, the corslette helps to maintain a shape whilst supporting the back and waist.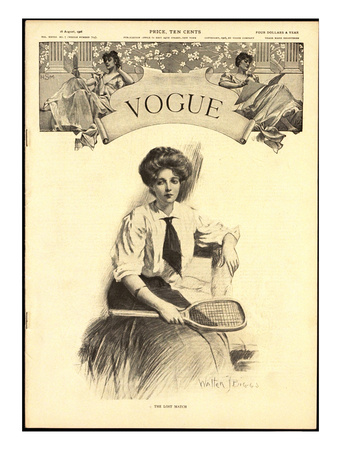 Vogue Cover – August 1906
Walter Briggs

In women's tailor-made daywear fashion, matching skirts, short jackets and blouses are still the most popular as is the Princess dress. However there are more and more examples of jackets and skirts that match in colour but not in material. Clothing is again less fussy than previous years, with details such as embroidery, piping, velvet trims, flowers and lace. Pleated skirts allow movement for the increasingly slimline shape and are more practical.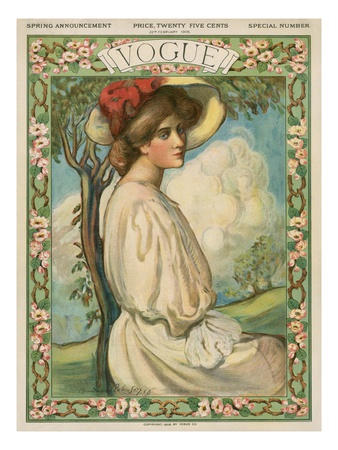 Vogue Cover – February 1906
Boardman Robinson

Women's evening wear is also becoming more simple with straight lines more tasteful than flounces and frills. Fashions are inspired by the Empirical style of 100 years ago. Bird feathers are still popular but increasingly frowned upon by 'humanitarians'. Osprey and peacock feathers are fashionable. Plain helmet-style straw hats are also fashionable this year. Silk coats are fashionable. Find out more here.
In men's fashion: coats, waistcoats and trousers are still the norm for formal evening wear with top hats, collar and necktie.
---
Cinema
The world's longest feature film is released. Made in Australia, it is The Story of the Kelly Gang and runs for 70 minutes. It is written and directed by Charles Tait and first shown in Melbourne.
A daily newsreel is launched by Will Barker at the Empire Theatre in London.
The first German film stock company is formed in Frankfurt.
Pathé patents the Pathecolor film system.
The first commercial cinema opens in Paris, named Cinema Omnia Pathé, followed soon by most of Europe.
Copyright of the world's first animated cartoon, Humorous Phases of Funny Faces. Walter Booth makes Britain's first cartoon, The Hand of the Artist.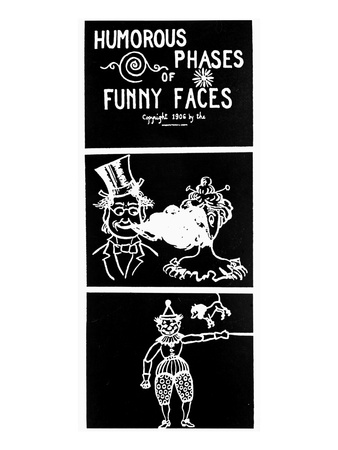 Animated Cartoon, 1906
J. Stuart Blackton

George Albert Smith patents a two-colour process for motion pictures, inspired by Edward Raymond Turner — later known as Kinemacolor. It projects black and white film through red and green filters.
Ole Olsen and Arnold Nielsen form Nordisk Film production company. They employ Viggo Larsen as director.
In France the Elgephone is produced to amplify phonographs.
Harry Aitken and John R. Freuler found the Western Film Exchange in Chicago for the US rental industry. Carl Laemmle launches a film distribution company in the US.

Watch this novelty stop motion animation film Miniature Theatre from 1906. Directed by Segundo de Chomon and produced by Pathé Freres:



---
Photography
The Lumière Brothers introduce photographer Prokudin-Gorsky to a new invention. Autochrome colour plates require a special camera.
A mini camera is launched by Houghton, England which looks like a pocket watch. It uses 17.5mm roll film and could capture 25 images.

---
Literature
The Jungle by Upton Sinclair tells the story of a contemporary immigrant family in Chicago.
JM Dent and company launches the Everyman Library series in the UK.
Edith Nesbit publishes The Railway Children.
Norwegian playwright Henrik Ibsen dies.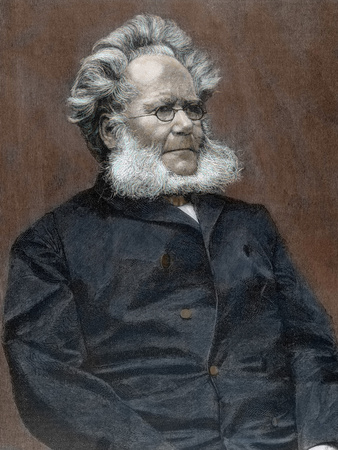 Henrik Ibsen
Prisma Archivo
---
Music
Victor Victrola manufactures a phonograph record player.
The first radio sets are advertised.
Gustav Mahler's Symphony no 6 premières in Essen, Germany.
A form of opera, Yueju, is popularised in China, originating from traditional folk singing.
Maurice Ravel's Miroirs premières in Paris.

---
Theatre
Mae Murray begins her acting career on Broadway alongside Vernon Castle.
Captain Brassbound's Conversion and Doctor's Dilemma by George Bernard Shaw première in London.
The Hicks Theatre opens in London — later renamed as The Gielgud Theatre.
George Washington musical by George Cohan is launched in New York City.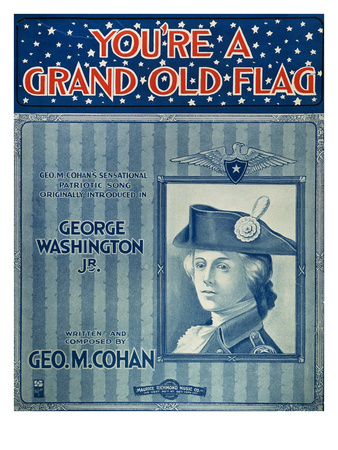 Cohan: Sheet Music, 1906
---
Pictify gallery of
1906
Pinterest gallery of what happened in 1906:

This 1906 post and Pinterest/Pictify galleries are added to as time goes by.
Please do leave a comment below if you think something should be added to the timeline or galleries.
See what happened in other years in the 1900s