Alice Guy, cinema pioneer
In which decade was the world's first ever female film director? Was it perhaps the '60s? Or possibly the '20s? No. Try the '90s — the 1890s. Try 1896, to be exact.

At age 23, Alice Guy was a pioneering director at France's Gaumont Film Company. She was also the first woman to run her own studio. Throughout her career she directed over 400 films and was involved in the making of over 700 in Europe and America. Alice Guy had been largely ignored by film historians until after her death in 1968. The release of her autobiography and memoirs in the 1970s set the record straight on a few things that history had forgotten. Credit for her films was either missing or given to others.

In the early days of the movie industry, credits were often not attached to films. This convention had not yet been established in the motion pictures industry. Alice Guy was one of the pioneers of early experiments in cinema, including colour enhancements, narrative cinema, synchronised sound in films, location filming and naturalistic acting.



---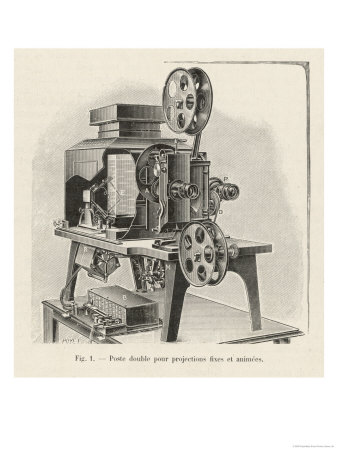 Gaumont Projector Adaptable to Still and Moving Pictures
Poyet
Biography
Alice Guy (1873-1968) begins her career as a secretary for Léon Gaumont in the 1890s. Even though she is initially considered too young for the job, her charm and sense of humour win through. Gaumont is experimenting with a new invention for moving pictures film projection. However the Lumière brothers get there first when they organise a projected screening of their own.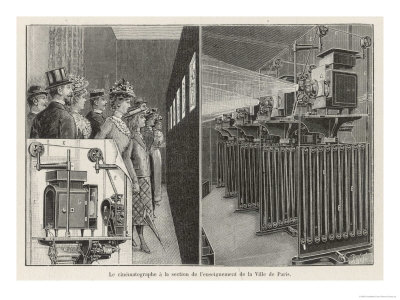 The Gaumont-Demery Exhibit Impresses at 1900 Paris Exposition
Poyet

In 1895 Alice Guy attends that very first Lumière screening of the workers' exit from the Lumière factory. It is a cinématographe 35mm motion picture film projected onto a sheet. Actualities were the most popular first films to be produced. At this point, Alice Guy suggests to Gaumont that she try to film a few scenes of small narratives. Gaumont allows her to do so — but only in her own time and out of office hours.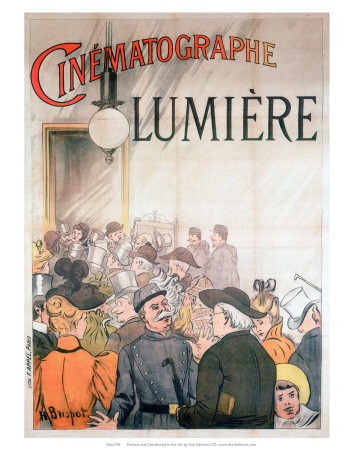 Lumiere Cinématographe, c.1900

She writes short stories to film and designs simple sets. Her films find some success while she remains a secretary. Yet, she is a film maker before the term even existed. In 1896 Léon Gaumont forms the Gaumont Film Company. Alice Guy is made its head of production before women even had the right to vote in France. In the beginning Alice has to figure it all out by herself and constantly has to defend her position as a film maker.

In 1906, a 35 minute film directed by Alice Guy makes a big impression on its release. Life of Christ is considered a long film and is one of the first ever narrative films. Action, lighting and camera work are all very accomplished. Alice Guy uses real locations in many of her films and is setting the house style for the new era of Gaumont films.

Léon Gaumont opens Gaumont Palace in 1907, the largest cinema in the world. It is re-constructed from the L'Hippodrome pavilion building built for the Paris Exposition of 1900. It screens newsreels, actualities and narrative films.

---
Alice Guy Blaché in America

Alice Guy meets her husband in 1906, at age 33. Herbert Blaché is a sales manager at Gaumont and a cameraman on her latest film Mireille. After they marry, Alice must resign her job at Gaumont and Blaché is sent to manage the Gaumont office in New York.

The couple relocate to America with the idea to make sound films (musicals mostly) and promote the chronophone franchise in 1907. In the USA, at this time, kinemascopes are the popular trend (viewing without a projector). Projection is more popular in France and Europe. The couple settle in Flushing near New York City and Alice gives birth to daughter Simone. Alice Guy Blaché misses her cinema work, though.

So, in 1910 she establishes her own studio, named the Solax Studio. At first she rents an underused Gaumont studio space at Flushing. Alice prefers to make sentimental narratives. A great example of this is Falling Leaves, in which a little girl ties leaves back onto a tree after being told her sister will surely die after the leaves fall in the autumn. In 1911, Alice has another child named Reginald.

In 1912, Alice Guy Blaché is the highest paid woman in America. She makes headline news and everyone knows her name and reputation. She moves her studio to Fort Lee New Jersey (the major film centre of the day) to expand her company. Solax produces two one-reel films per week (around 15 minutes long). She brings her kids to the studio and is known to be charming and have the most wonderful expert knowledge of the technology of cinema. Her sets are meticulous, using real locations and striving for more and more complicated, sophisticated techniques. She is a true pioneer of cinema, pushing the potential of film making ever further as she goes.




In 1913, after her husband is released from his Gaumont contract, he introduces his new company Blaché Features to the Solax Studios lot, using the same facilities and actors. Blaché Features becomes the more dominant studio to Solax. Blaché then forms US Amusement Corporation in 1914.

The star system begins taking shape in the 1910s as directors begin to use the same performers repeatedly. Alice Guy Blaché uses the same actors regularly. She has signs pinned up around the studio calling for the actors to 'Be Natural'. One of Alice's first regular stars is Olga Petrova, theatre actress and one of the first big stars of the movies. In 1914 she stars in The Tigress, her first film with Guy Blaché. They make four films together between 1914 and 1917. Alice Guy Blaché also directs Doris Kenyon, Bessie Love, Ethel Barrymore and an actress named Catrine Calvert.

Asking actors to be natural allows Alice to make compelling close-ups and more expressive and emotional storytelling. The Lure is a good example of one of Alice Guy Blaché's box office hits. After 1915 film dramas begin to get longer in duration and Alice favours love stories with a happy ending.




Alice Guy Blaché is not interested in critics. She cares more about what audiences think of her films. She is invited to give lectures by academics. Being the only female film maker in existence she has an interesting perspective on the process. She supports women getting the vote and believes cinema is a perfect medium for women to make a successful living and to be creative. However the industry and Alice's own life is about to change dramatically.


During World War I, small film production companies are being bought up by bigger conglomerates. Alice receives offers to buy Solax but turns them all down. But in 1918 Herbert Blaché leaves his wife and children and went off to Hollywood with actress Catrine Calvert. Alice is left devastated and, in 1919, is left wiped out physically by Spanish 'flu, emotionally by her failed marriage and financially by the declining success of her independent studio. Alice and the children join Herbert Blaché briefly in Hollywood but the marriage is clearly over for him and she is left defeated. Alice Guy Blaché sells her studio at Fort Lee and all contents are auctioned off. In Hollywood she has lost both her husband and her career. She is bankrupt and sad and returns to France with her children in 1922, following her divorce.

---
Alice Guy Blaché returns to Europe
Alice starts her new life in Nice, France and tries to retrieve the film career she has lost. But she feels it is too late for her and focuses instead on her children. She writes children's stories and magazine articles under male pen-names. She signs her own name to screenplays but opportunities for women in this area are too scarce. Alice lives in Belgium and Switzerland following her daughter's diplomatic career. She begins research to find her own lost films. She cannot find any films made in France and the US films are not released under her name. She only finds a few. She begins work on her autobiography when she discovers that a book written by Gaumont has omitted her from French film history.

However in 1953 she receives the Legion d'Honneur in France. This is the highest recognition for her contribution to the film industry. Alice returns to the USA in 1964 to live with her daughter and dies in 1968, at age 95, following a series of strokes.
Over 700 films were made with Alice Guy Blaché as director, scriptwriter or producer (or sometimes all three). She worked in almost every style, format and genre. Only just over 100 of her films have been found around the world to date.
Although Alice Guy Blaché could not find a publisher for her autobiography, it was finally published posthumously in 1976. She was the only known female film producer in existence for seventeen years and the world's first ever female film director. Her legacy and influence on the industry are notable yet she had never properly received the accolades she deserved until her autobiography was published. Perhaps she can now be given her rightful place as a pioneer of the moving image. Let's hope so.

---
sources and recommended reading
Alice Guy Blaché: Lost Visionary of the Cinema (Continuum, 2002) by Alison McMahan
from Amazon US and UK and Waterstones.

Alice Guy Blaché: Cinema Pioneer (Whitney Museum of American Art), edited by Joan Simon, Yale University Press (2009) from Amazon US and Waterstones.

The Memoirs of Alice Guy Blaché by Roberta Blaché, Alice Guy Blaché, Simone Blaché and Anthony Slide, Scarecrow Press (1996) from Waterstones, Amazon US and UK.
---
Watch this fascinating documentary, Lost Garden, The Life and Cinema of Alice Guy Blaché (1992) by Marquise Lepage:
The Lost Garden: The Life and Cinema of Alice Guy-Blaché by Marquise Lepage, National Film Board of Canada
---